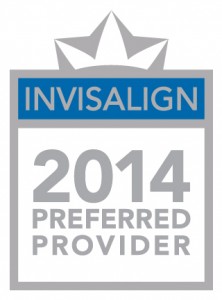 An attractive, open smile is an invaluable asset in your personal and professional life, conveying confidence, charisma, and a whole host of positive attributes in a single flash of your pearly whites. If your teeth are crowded, misaligned, or unevenly spaced, you may find yourself hiding your smile in public and in photographs. Fortunately, there is a teeth-straightening solution that doesn't involve the use of metal wires and brackets: Invisalign clear aligners. Dr. Alan Sasson at Boston Smile Center is a 2014 Invisalign Preferred Provider serving Brookline, MA and the surrounding areas. Our team would love to show you how much of a difference Invisalign can make in your smile and in your life.
Choose Invisalign for a Confident Smile
If you are a candidate for Invisalign orthodontic treatment, we'll begin the process of straightening your teeth by taking precise digital measurements of your dentition. This data will be sent directly to an Invisalign lab where your custom aligners will be created. When we receive your aligners, we'll assess your bite to ensure optimal fit and comfort. The rest is easy! Simply wear your clear, comfortable aligners for the designated amount of time each day for a period of about two weeks for each set. As time passes, you'll graduate to the next set of aligners in the series until treatment is complete. With Dr. Sasson's guidance, you'll begin to see your new smile emerge in no time!
Because we want you to begin enjoying the innumerable benefits of straighter teeth as soon as possible, Dr. Sasson also offers Propel Orthodontic technology. This revolutionary solution actually improves the restructuring process within your jaw as your teeth are shifted into their final positions. Capable of reducing orthodontic treatment duration by up to 60 percent, Propel has been successfully utilized with both traditional braces and the Invisalign system. We genuinely look forward to becoming your partners in your journey toward a healthier, more balanced smile with Invisalign clear aligners.
Schedule Your Consultation Today
If you've been dreaming of straighter, healthier teeth and a more confident smile, Dr. Sasson and his team can help. Contact our office in Brookline, MA today to schedule your Invisalign consultation with our caring, experienced team. Remember to ask about the Propel Orthodontics system as well to find out if you're a candidate for even more rapid orthodontic treatment. Our state-of-the-art dental practice proudly serves families from throughout Brookline and the surrounding areas, including Boston, Cambridge, Somerville, Newton, Chelsea, and more.