Veneers — Brookline, MA
Perfect Your Smile
Your teeth are not just important for chewing and speaking - they also create your smile. If your pearly whites are chipped, broken, or discolored, it can prevent you from smiling with confidence. You do not need to live with your dental imperfections. You can get the smile of your dreams with dental veneers in Brookline. At Boston Smile Center, we can revitalize your smile and your self-esteem after just two appointments.
Why Choose BOSTON SMILE CENTER for Veneers?
100% Custom Made for Each Patient
Minimal Prep Veneers Available
Fellow of the International Academy of Dental Facial Esthetics
What Are Dental Veneers?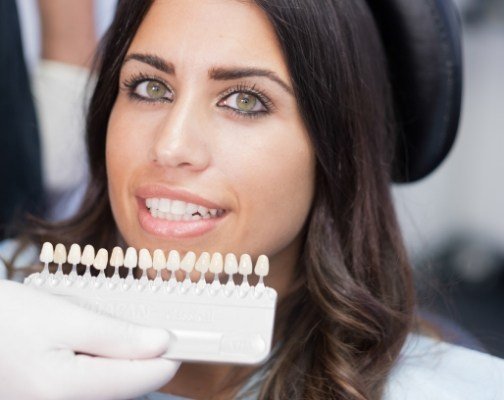 Veneers differ from dental crowns because they do not cover the entire visible portion of a tooth. Instead, they only cover the front surfaces using a thin shell made of porcelain. They instantly improve the color, size, shape, and proportion of a tooth using a minimally invasive treatment.
Now, porcelain is the preferred material because it allows veneers to be thinner so less of your tooth enamel is removed during the bonding process. Not to mention, it closely mimics the appearance of your enamel to create natural-looking results.
The Veneers Process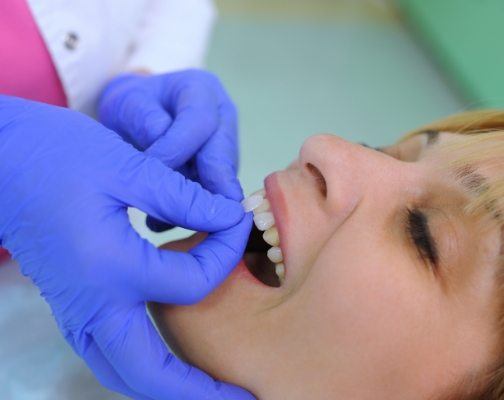 Generally, if your teeth and gums are healthy, you are a candidate for dental veneers, but you need a consultation with your cosmetic dentist in Brookline, Dr. Sasson, to ensure they are right for you. He creates a customized treatment plan to transform your smile in just two appointments.
Your teeth are cleaned and prepared during your first visit, which involves removing a small amount of enamel to ensure the veneers sit flush on your teeth. Dr. Sasson takes an impression to allow the dental lab to craft your veneers to meet your specific needs. This can take a couple of weeks, so he attaches temporary ones while you wait. After your final veneers are sent back to our office, you return to have them bonded to your teeth.
What Problems Can Veneers Fix?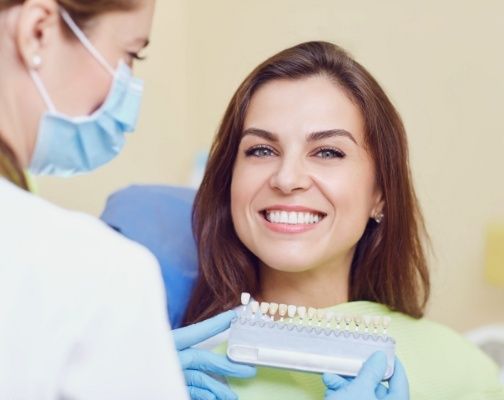 Your tooth size, shape, and color can be altered with dental veneers. They are effective for correcting several issues at once, such as:
Dark tooth discoloration that will not respond to whitening treatments.
Chipped, cracked, short than average, or abnormally shaped teeth.
Close gaps between teeth.
Cover minor alignment concerns without having to wear braces.
How Long Do Veneers Last?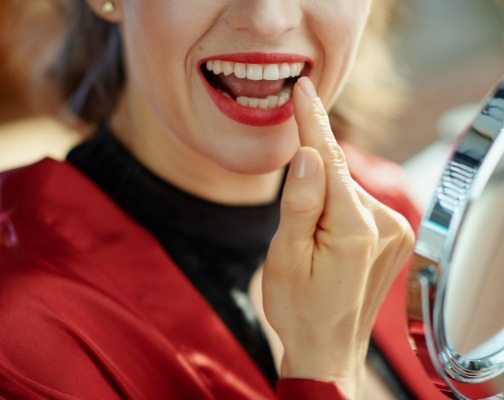 Veneers provide you with a long-term solution to enjoy a beautiful smile. On average, they last for about 10 years before needing to be replaced. You can help to protect their longevity by:
Brushing with a soft-bristled toothbrush and nonabrasive toothpaste twice a day.
Cleaning in between each tooth with a high-quality dental floss every night.
Wearing an athletic mouthguard when playing sports.
Avoiding using your teeth as tools to open packages.
Not chewing on inedible objects, like your nails or pencils.
Not biting into overly hard foods, like ice.
Besides caring for your new smile at home, do not forget to visit your dentist twice a year for a teeth cleaning and dental checkup. They will also check your veneers to ensure they are undamaged and bonded to your teeth well. If one is damaged or compromised, we can easily replace it.
Understanding the Cost of Veneers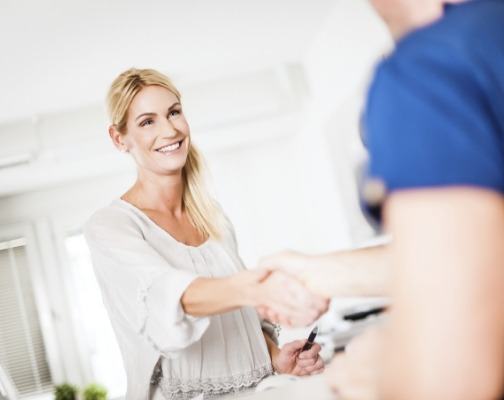 A beautiful smile isn't out of reach. You can achieve the stunning results you desire with veneers. Contrary to what you might have heard, people from all walks of life can benefit from them. Despite their reputation for being expensive, they can be the most cost-effective method for enhancing your grin. Various factors affect the cost of veneers in Brookline, but we strive to keep them affordable for everyone. We can give you the attractive, confident smile you deserve.
Veneers vs. Other Cosmetic Dentistry Treatments: What's Right for Me?
Advancements in dentistry provide more options than ever to correct common aesthetic concerns, like stains, chips, or gaps. However, only one procedure can fix all of them at once. Your cosmetic dentist in Brookline will discuss all your options, which can include:
Braces: Metal braces and clear aligners can treat the most complex bite and alignment concerns in about 12 to 24 months. While they are effective, it's a long commitment if you only want to close gaps between your front teeth.
Teeth Whitening: Whitening systems can get teeth up to 8 shades whiter when used on age-related or surface stains. Your results can last anywhere from a few months to years with the right care.
Direct Bonding: Resin material is shaded to the color of enamel to fix minor cosmetic flaws, like chips or cracks. It offers a lot of bang for your buck.
Veneers: Veneers cover many aesthetic problems simultaneously with results that can last a decade or more. You'll benefit from quick, lasting results using a minimally invasive procedure.
After examining your mouth and learning more about your preferences, your dentist will create an individualized plan. They'll consider your goals and budget when determining which procedure may be right for you. If you want to improve your smile before a big event, be sure to discuss your timeline with your dentist.
Often, veneers can be the most cost-effective option because you won't need multiple procedures to achieve the smile you want. You'll enjoy lasting results after two appointments.
How to Make Veneers Affordable
You don't have to be rich or famous to revamp your smile. We offer a variety of payment options to keep veneers in Brookline within your budget, including:
Traditional Payments: Our office accepts all traditional payment methods, including cash, checks, and credit cards.
Patient Specials: Ask us about any ongoing patient specials.
Dental Insurance: It's rare for dental insurance to pay for elective procedures, but there are some exceptions. A member of our team will help you maximize any applicable benefits to lower the amount you pay.
Third-Party Financing: Pay for the smile of your dreams using monthly installments through a third-party financing company, like CareCredit.
We will review your estimate and payment solutions. Rest assured; you'll know exactly what you'll need to pay before committing to anything.
If you have any questions about your payment options, or you're ready to request your consultation, contact our office today.
Veneers FAQs
Veneers in Brookline offer a lot of bang for your buck because they can fix several issues using a single procedure. However, they are a big commitment. Don't worry, Dr. Sasson will explain everything during your veneer consultation to ease any apprehensions. While you wait for your appointment, here are the answers to a few frequently asked questions.
Are veneers permanent?
Veneers aren't considered permanent because they will need to be replaced eventually, but they aren't reversible either. A small amount of enamel must be removed from your teeth during the preparation process. Although this doesn't harm the health of your teeth, your enamel won't grow back. As a result, your teeth must always be covered by restorations, whether veneers or crowns. You won't have to budget for replacements often because veneers can last for 10 years or longer with the right maintenance, like brushing and flossing.
How many veneers will I need?
A veneer can be applied to a single tooth, such as to fix a chip or crack, but the overall goal of the procedure is to improve the entire smile. As a result, your cosmetic dentist in Brookline will recommend applying them to the teeth most visible when smiling. Since everyone's mouth is unique, there isn't any way to determine how many you'll need without an examination. Some patients only need 6 to 8, while others may require up to 12. Dr. Sasson will explain the amount it will take to reach your goals.
Are veneers covered under dental insurance?
Veneers are classified as an elective procedure, so it is rare for dental insurance to cover their cost, but there are some exceptions. If it's determined they are necessary for your oral health, you may be able to use your coverage to offset the amount you pay. This can be the case when needing replacements. Your dental insurance may also cover some of the cost for certain preparatory treatments, like a deep cleaning or imaging. If applicable, we will work on your behalf with your dental insurance to maximize your allowable benefits. A member of our team will explain how your policy is being used and if there's a remaining balance. They will also discuss your payment options for any out-of-pocket expenses, like third-party financing.
Do veneers feel natural?
You might have heard veneers feel bulky, but this is a complaint of the past. Porcelain has allowed veneers to be thinner than ever, so they are lightweight. Etching the surfaces of your teeth also allows the veneers to fit like a glove. There won't be any ledges or uncomfortable ridges when running your tongue over them. Dr. Sasson uses advanced technology to get precise measurements for your restorations. They will be carefully crafted to meet your exact specifications. Although it may take a couple of days to get used to them, many patients report they feel completely natural after the adjustment period. Whether you are speaking, eating, or laughing, you can feel confident your veneers will feel just like your real teeth.