Implant Dentures — Brookline, MA
Smile Securely with Beautiful Dentures
If you are missing the majority of your teeth along one or both arches, then replacement is essential for the look of your smile, the condition of your mouth, and even your overall health. Ignoring tooth loss can cause other problems to develop such as gum disease, tooth decay, malnourishment, and even feelings of shame and embarrassment. Fortunately, there are several good tooth replacement options. Implant dentures combine two of the most popular and best choices. With implant dentures in Brookline, you get the look of a complete smile from dentures combined with the security of dental implants.
Why Choose BOSTON SMILE CENTER for Implant Dentures?
Dentist with 35+ Years of Experience
Certified in Oral Implantology
Dental Implants Placed & Restored In-House
What Are Implant Dentures?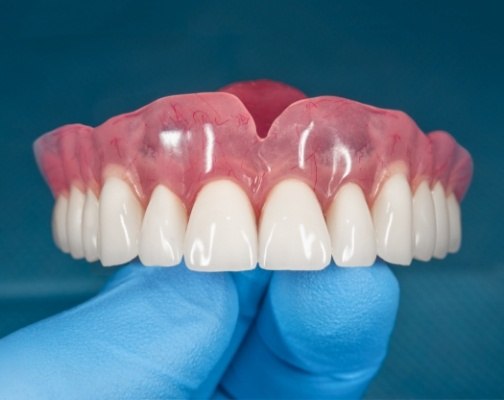 As the name suggests, these dentures—which can be either fixed or removable—are held firmly in your mouth thanks to dental implants. A dental implant is a small screw-shaped post that is surgically embedded in your jawbone to hold a tooth restoration in place. In the case of implant dentures, several posts are placed along your jaw to hold the denture in place. Special X-rays show exactly where the implants should go so they take advantage of the greatest bone density. Implant dentures are often used to replace teeth missing along the lower arch, because they are more likely to slip if not firmly secured.
Am I a Candidate for Implant Dentures?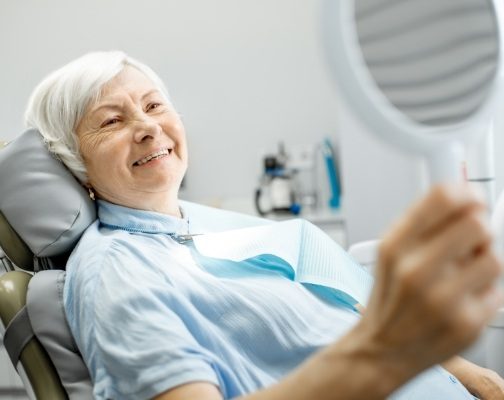 Before any patient receives dental implants in Boston, we must first examine their oral health. For implant dentures to be successful you must have healthy gums and the underlying bone structure must be strong. In addition, the right amount of bone density is required in your jawbone to anchor dental implants. If density has decreased, then bone graft surgery may be an option.
How Are Implant Dentures Placed?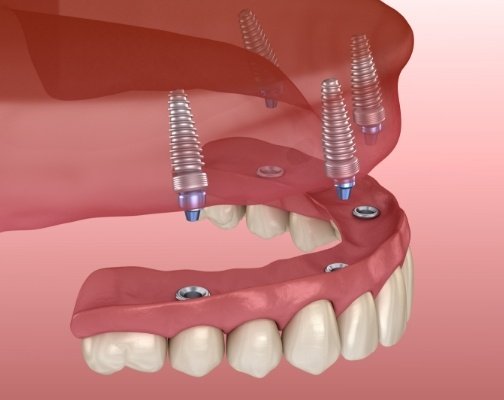 The implant denture process begins with X-rays and impressions of your teeth and gums. With this information, your personalized treatment plan is developed. This covers where to place the posts and how your dentures will look. During oral surgery, the dental implants are embedded in your jawbone. The majority is positioned toward the front of the jaw where bone dentistry is greater.
A small incision is made in your gums to expose the bone. With a special hand instrument, a section of bone is removed and the implant is placed. The incision is then closed. You'll be given instructions on how to keep the incision clean while your gums heal.
Once the implant and surrounding bone have integrated, a healing cap is placed on top of the implant so gum tissues heal around it. This step is necessary in order to prevent gum tissue from interfering with your implant dentures. Finally, we'll take another impression of your gums and the implants' abutments so we can begin crafting your dentures. If your dentures ever need adjusting or relining, we will be happy to make them look and feel like new again.