Dentures — Brookline, MA
Missing Several Teeth? We Can Restore Them
The more teeth you lose, the more of an impact it will have on your ability to function in everyday life. You won't be able to chew your favorite meals, and even something as simple as speaking will be difficult. Fortunately, there's an easy way to compensate for extensive tooth loss: simply schedule an appointment to ask our Boston Smile Center team about getting dentures in Brookline! With just one affordable prosthetic, you'll be able to enjoy the benefits of a full smile again.
Why Choose BOSTON SMILE CENTER for Dentures?
Dental Implants Placed & Restored In-House
Dentist Certified in Oral Implantology
Custom Designed Down to the Finest Detail
Who Is a Good Candidate for Dentures?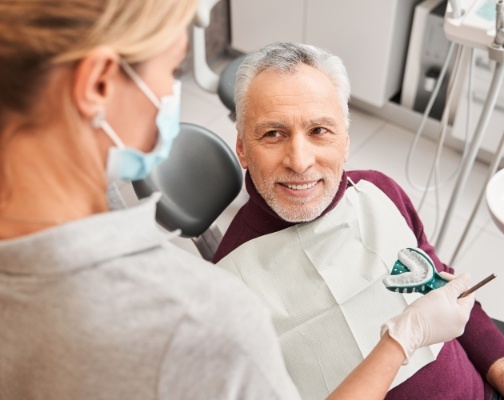 If you're thinking about getting dentures, it usually means one of two things: either you've already lost most or all of your teeth, or you are planning to have extensive tooth extractions for oral health reasons. We will consider dentures along with other tooth replacement options during an initial consultation. Generally speaking, dentures will offer the most cost-effective way to replace large numbers of teeth simultaneously.
When we're examining your mouth, we'll take note of tooth decay, gum disease, and other dental concerns. We will work the appropriate forms of treatment for these issues into our plan so that your smile is healthy as well as whole at the end of the process.
Types of Dentures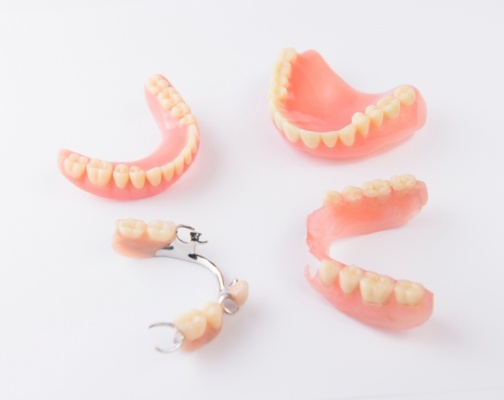 Today's dentures are more comfortable and reliable than ever before thanks to state-of-the-art dental materials and advanced design techniques and technology. There are actually several types of dentures available; our team will consider the number of teeth missing as well as the overall health of your gums and jaw before recommending one of the following three options.
Read More
Partial Dentures
A partial denture is used to replace one or multiple teeth. This is the best option for those who still have most of their natural teeth. Each partial denture is designed to slip into the gaps in an arch in a seamless way. Most of the time, the prosthetic will be held in place with a clasp attached to the natural teeth.
Full Dentures
Full dentures are the best choice for those who have already lost an entire row of teeth or don't have enough healthy teeth to salvage. The prosthetic teeth attached to a full denture will be custom shaded and shaped based on the overall appearance of your smile and the rest of your face. Traditionally, full dentures simply rest on the gums and stay where they are thanks to suction.
Implant Dentures
Dental implants are the most advanced tooth replacement option available. Now you can anchor your dentures to your jaw with the help of titanium implant posts. This helps minimize unwanted movement and keeps the underlying bone tissue healthy.
The Benefits of Dentures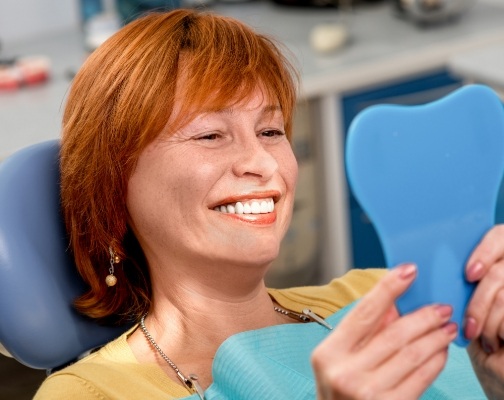 Allows you to restore all of your teeth at once so you can enjoy a varied, healthy diet without pain
A cost-effective option compared to other tooth replacements
New teeth that can be completely personalized
A lifespan of 10 years or longer with proper maintenance
Support for your facial muscles to preserve the shape of the face
Denture FAQs
Dentures in Boston have been a trusted solution to replace lost teeth for generations. They are a tried-and-proven method to restore a beautiful, complete smile; however, they are a big investment. We will take the time to explain everything during your consultation to feel confident about the road ahead. While you wait for your appointment, here are the answers to a few frequently asked questions.
Can I sleep with my dentures?
No one wants to be caught without their teeth, but you should only sleep with your dentures for the first night. Your denture dentist in Boston will advise you to wear them for 24 hours after receiving them, but then you'll need to take them out. Blood circulation to your gums will be restricted while wearing your dentures, which can lead to tenderness, inflammation, and infection. Removing your new teeth at night allows your gums to get the nutrients they need to stay healthy. Not to mention, your mouth is dark and moist. It's the perfect place for bacteria to multiply quickly, which can affect your oral and general health. It can also cause odors and damage to your denture. You can safeguard your health and investment by taking your dentures out at night. After you've cleaned them, store them in an overnight soaking solution to remove any bacteria left behind by your toothbrush. It will also keep them moist to prevent warping.
Does an upper denture always cover the palate?
A traditional upper denture covers the palate. Although it's effective, it can be uncomfortable or diminish the way food tastes for some patients. You have other options. Dentures come in several styles, including palate-less options. An upper denture can have a horseshoe shape like a lower or implant denture. We will explain all your options to find the ideal style for your needs and preferences.
Do I use toothpaste to clean my denture?
While your dentures mimic your natural teeth, they can't be cleaned the same way. Abrasive dental products, like a hard-bristled toothbrush or toothpaste, can leave small scratches on your dentures. The tiny crevasses can trap bacteria, which can compromise the durability of your new smile. It can also affect the aesthetics of your dentures. Instead, your denture dentist recommends using a soft-bristled toothbrush and mild hand soap or dishwashing liquid to clean them, but don't use hot water because it can warp your dentures. You can also purchase cleaning products designed for dentures.
Can I eat steak with dentures?
Your dentures will closely mimic your natural teeth, but they have their limitations. While it is possible to eat steak, you'll want to have it in moderation. Steak and other tough meats can be difficult to chew, which can put more wear and tear on your dentures. It can also lead to sores and inflammation. If you can't resist a juicy steak, cut your food into small pieces to make it easier to chew. You can also use an adhesive for a little more stability when eating.