Invisalign - Brookline, MA
Discreet Orthodontic Care
It's a commonly held belief that straight, white teeth and a radiant smile will do wonders for your self-confidence as well as your personal and professional image. Beyond this, a straight smile is also better for your health. Crowded or widely spaced teeth can make it difficult to keep your teeth and gums clean, putting you at greater risk of tooth decay and gum disease, in addition to increasing risk for problems in the rest of the body.
If you're a busy professional, traditional bracket-and-wire braces may seem like they're out of the question because of how they might affect your image and take up too much time. That's why Dr. Sasson's Brookline dental office is proud to offer clear alignment tray orthodontics using traditional Invisalign® and Invisalign Go. With them, patients can straighten their smiles comfortably, with a series of custom-made, clear aligners that are as effective for most patients as traditional bracket and wire braces.
If you want to learn more about achieving a flawless, functional smile, call the Boston Smile Center to schedule a consultation for Invisalign in Brookline. We'll review your specific situation and partner with you to create a personalized treatment plan to achieve the picture-perfect smile of your dreams.
Why Choose BOSTON SMILE CENTER for Invisalign?
Certified Platinum Invisalign Provider
100% Custom Treatment Plans
Member of the International Association of Orthodontics
How Does Invisalign® Work?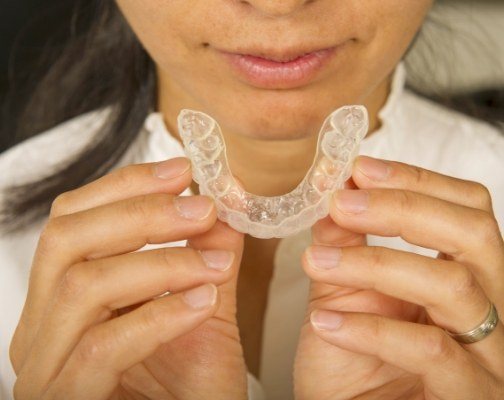 Your clear Invisalign® aligners will be made just for you by the Invisalign® lab, with each set designed to bring your teeth one step closer to their ideal position. There are absolutely no wires or brackets. Instead, you'll just wear each set of clear aligners for approximately two weeks all day long except when eating, brushing, or flossing your teeth.
Because they are removable by the patient—just like a retainer, athletic mouthguard, or nightguard — Invisalign® aligners can be taken out to eat, brush, and floss. They can also be taken out for special events, and they just slip them back on when you're done.
Invisalign® treatment doesn't have any brackets or wires, so you don't need to make numerous office visits to have anything tightened. Instead, you'll just need to come in about every four to six weeks, so Dr. Sasson can check your progress. Straightening your smile with Invisalign® often takes 6-12 months. With our accelerated orthodontics option, we can shorten your treatment time by almost half. During that time, you can rest assured that you'll finally have the smile you've always dreamed of without sacrificing your professional image, putting your social life on the backburner, or giving up on the foods you love.
How Does Invisalign Go® Work?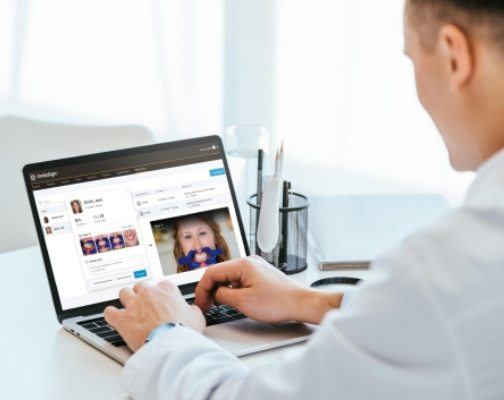 For patients with minor to moderate alignment needs, like mild tooth positioning concerns, crowding, or gaps between teeth, Invisalign Go offers a faster treatment option. This system is fully integrated with our iTero digital scanner. We can seamlessly scan your current bite and use our chairside computer to plan every step of treatment. Then, the digital scans are sent directly to our Invisalign lab where your full series of alignment trays are crafted. Throughout the treatment process, we will be able to carefully monitor progress and adjust treatment with the minimal number of dental office appointments.
Benefits of Invisalign® & Invisalign Go®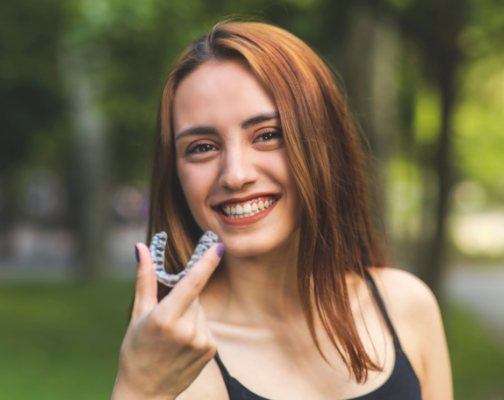 No dental treatment is right for every patient, but if you decided that Invisalign or Invisalign Go is right for you, there are numerous benefits, including:
No one will know you're straightening your teeth
You can still eat the foods you love
You can take them out for important events
They are comfortable and easy to wear
Fewer office visits are required
Traditional Invisalign can treat all levels of concern, including overcrowding, spacing issues, overbites, underbites, deep bites, and open bites
We're happy to offer free financing on Invisalign® and Invisalign Go through CareCredit. You can apply online for approval, or one of our knowledgeable team members will be happy to help you with the application process in our practice. Contact our dental office for more details or to schedule a consultation.
Invisalign in Half the Time with Propel®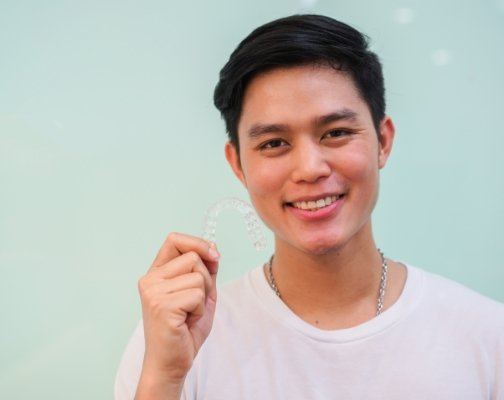 At Boston Smile Center, Dr. Sasson continually strives to provide the very best leading-edge solutions for our patients. We're excited to be one of the first dental practices in our area to offer the FDA approved PROPEL® technology.
PROPEL® will shorten orthodontic treatments for both braces and clear aligners by almost half the time. This has become a game changer for our adult patients! While each patient varies, many are now able to complete their orthodontic treatment in just 3-10 months. Even if you have already begun treatment, adding Propel will dramatically shorten the expected treatment time.
PROPEL®
PROPEL® works with the patient's own biology by stimulating the bone surrounding the teeth, allowing the teeth to move faster and more predictably into their ideal position. PROPEL® requires few office visits and allows our adult orthodontic patients to see their new smiles faster than ever.
PROPEL® is so versatile that we can include it with our Insignia and Damon Clear braces, Invisalign® clear braces, STb and Six Month Smiles® adult orthodontic treatments.
At Boston Smile Center, we always offer complimentary consultations and include free teeth whitening at the end of your treatment, plus a free water pic during treatment to keep that radiant smile bright. Contact our office today to schedule your complimentary, confidential consultation.
Understanding the Cost of Invisalign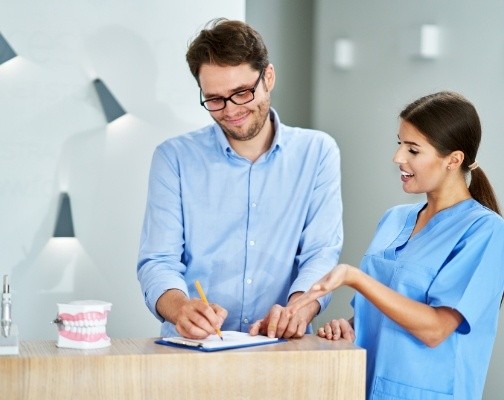 So, you're thinking of getting Invisalign? That's great news – the procedure should straighten your smile well! Still, perhaps you're hesitating due to the potential price. After all, aligners won't help if buying them "breaks the bank." However, the cost of Invisalign varies by the patient; you'll thus have to consult our dentists for an exact treatment estimate. Thankfully, you can trust Boston Smile Center to make Invisalign budget-friendly. To learn how we'd do so, just keep reading or book a visit to our dental office!
Factors That Affect the Cost of Invisalign
As it happens, various factors can impact Invisalign's cost. The most common of these elements are:
The Number of Treated Arches – You'll pay more if you straighten both arches instead of one.
Treatment Complexity – The needed tooth movements also influence the price. For instance, fixing a gap between front teeth is cheaper than treating several severely crooked chompers.
Treatment Timeline – A longer treatment time will require more aligners, driving up costs.
Patient Compliance – Your Invisalign journey will face delays – and added expenses – if you don't wear the aligners for 22 hours daily.
Does Dental Insurance Cover Invisalign?
All dental insurance plans are required to provide orthodontic coverage for patients aged 18 and under, but this may not extend to adult orthodontics. And if it does, this may only refer to metal braces, no Invisalign. However, many plans WILL help you pay for Invisalign, so you may have a policy that offers coverage. You should confirm the matter with your insurance provider before treatment, and our team can even help you do so. You can also use your FSA account (if you have one) to help cover the cost.
Options for Making Invisalign Affordable
As it happens, there are ways besides insurance to make Invisalign affordable. Here at Boston Smile Center, for instance, we offer:
Dental Savings Plans – In exchange for a low monthly fee, our practice will give you (among other things) a 15% discount on routine services – including Invisalign!
Flexible Financing – Our office works with CareCredit, a service that lets patients pay for treatment in monthly installments. Using it, you could cover the cost of Invisalign over time instead of all at once.
Special Offers – We're currently running a special on Invisalign, lowering its price to just $199/month!
As you can see, Boston Smile Center is ready to straighten your teeth affordably. Go ahead, then, and consult us to learn more about the financial details.
Invisalign FAQs
When people think of braces, they most often think of traditional orthodontics with metal brackets and wires. However, Invisalign is another alternative that can address the same orthodontic concerns, but without the obvious mouthful of metal. Therefore, Invisalign appeals to many people, but they still have questions. Here, Dr. Sasson answers some frequently asked questions about Invisalign.
How Do Aligners Straighten Teeth?
During your Invisalign treatment, you will wear a sequential series of aligners. Each aligner will slightly adjust the position of your teeth, a process that is planned by Dr. Sasson and the Invisalign lab at the start of treatment.
What Makes Teeth Move with Invisalign Aligners?
Invisalign aligners move teeth through the targeted placement of controlled force. But not only is the force controlled, it is also timed. In other words, only certain teeth move during each stage of treatment.
What Are the Advantages of Invisalign?
The obvious advantage of Invisalign is that the aligners are not obvious—in fact, they are hardly noticeable in normal social and professional circumstances. In addition, Invisalign aligners are removable so you can take them whenever you want to eat and drink or when it's time to brush and floss your teeth.
How Long Will Invisalign Treatment Take?
Of course, the length of your treatment time will depend on your individual orthodontic case. However, most adults are able to complete treatment in about 12 months.
How Much Will I Need to Wear My Invisalign Aligners?
Dr. Sasson likes patients to wear their Invisalign aligners for about 22 hours each day, removing them only for eating, brushing and flossing.
How Often Will I Need to Schedule Progress Visits with Invisalign?
Every four to six weeks is usually the recommended span of time between visits when you're wearing aligners. In Boston, Invisalign wearers appreciate the convenience of quick and simple appointments to make sure their treatment is progressing as planned.
Are Invisalign Aligners Painful?
When you start wearing each new set of aligners in your series, you may notice some discomfort that feels like pressure. This usually goes away after a couple of days.
Will My Speech Be Affected by Aligners?
When you first start wearing the aligners, you may have a slight lisp. But after a few days you'll get used to having the aligners in your mouth, the lisp will go away.
Can I Chew Gum and Wear My Aligners?
No. Gum can stick to the aligners, so remove them if you're chewing gum.
How Should I Clean My Aligners?
The Invisalign Cleaning system is the best way to keep your aligners clean and fresh. Alternatively, you can brush and rinse them with lukewarm water.