Restorative Dentistry – Brookline, MA
Restore Your Smile with Function and Beauty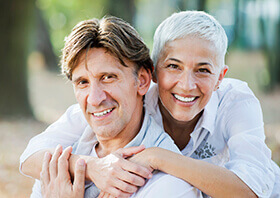 No one should have to suffer with severe dental damage and pain for weeks or even months on end. Instead, turn to Dr. Sasson at Boston Smile Center for the personalized, experienced approach you need during this difficult time. Our restorative services are designed to treat a wide spectrum of services, from minor oral injuries to extensive areas of missing teeth, and patients can look forward to receiving quality work that's durable and aesthetically pleasing. Our Brookline, MA practice is open to those from Newton and all around the greater Boston area.
Rebuild Your Teeth
Even mild cracks in the enamel can lead to dire repercussions for a patient's wellbeing and sense of self-confidence. Thankfully, Dr. Sasson, your expert dentist in Brookline, offers several treatment options that are designed to rebuild structure and restore function to one or more lacking teeth in long lasting ways. Our customized dental crowns and bridges can replenish smiles with the power and natural sensation they are sorely missing, and all-porcelain options are available for a seamless appearance. Additionally, full and partial dentures can provide greater coverage and valuable convenience for patients in need of extensive tooth reconstruction.
Overcome Infection
We strive to treat decay at the earliest stages for our patients, but in cases of severe infection, Dr. Sasson's high level of experience and dedication to technology is beneficial in helping restore health and thriving dental structure. Laser dentistry is the new frontier when it comes to the treatment of periodontal disease, allowing for bacterial elimination in a much more precise and comfortable fashion. Root canal therapy is also available for patients in need of dire intervention for severely damaged teeth; in fact, this service can prevent the need for extraction altogether and preserve wholly natural, healthy smiles.
Dentures & Partials
Are you missing some, most, or all of your teeth? We have custom-made solutions for you: dentures & partials. Using dentures in Brookline, we can restore your whole smile at once with a realistic-looking prosthetic. Thanks to modern dentistry, dentures today are lighter and more flexible than ever, creating a comfortable experience for the wearer. If you're interested in receiving dentures or partials, read on to learn more about them, the process of receiving them, and how you could benefit.
Dental Crowns & Bridges
Dental crowns & bridges are a way we can replace patients' teeth that are missing consecutively. If you're missing just a piece of your smile, we can give you a stable, strong, and beautiful-looking replacement to seamlessly complete your set of teeth. Using dental crowns on either side, Dr. Sasson can support your dental bridge to literally "bridge" the gap in your smile. This gives those with multiple missing teeth an alternative option to partial dentures.
Laser Dentistry
We are excited to offer laser dentistry, one of the more technologically-advanced services that we have. This marvel of modern science can be used for numerous services like treating gum disease, relieving tooth sensitivity, recontouring your gumline, preparing cavities, and more. This tool allows Dr. Sasson to provide you with the same quality care that he has for years, in a much more comfortable and efficient way thanks to laser dentistry. Read on to learn more about this service and what we can use it for to treat your smile.
All-Porcelain Crowns
For those with damaged or decayed teeth, we offer all-porcelain dental crowns. These personalized restorations are crafted from high-quality porcelain to match the natural shape, size, and color of your teeth. Unlike other materials, dental porcelain is relatively stain-resistant, which will ensure that you have a beautiful restoration for years to come. These dental crowns can also be used to restore dental implants and support bridges.
Root Canal Therapy
If you have a toothache or are in serious dental pain, there's a good chance that your tooth is infected. Dr. Sasson is experienced at providing his patients with root canal therapy to save their tooth from extraction. With this treatment, he will remove any infected or decayed dental tissue from the inner portion of your tooth. After, we will fill it or use an all-porcelain crown to protect it in the future. This prevents further decay, damage, and infection from spreading. While root canals get a bad reputation, Dr. Sasson's gentle care and treatment will get you out of pain and prevent it in the future.