Brookline, MA Dentist
Get to Know Dr. Alan Sasson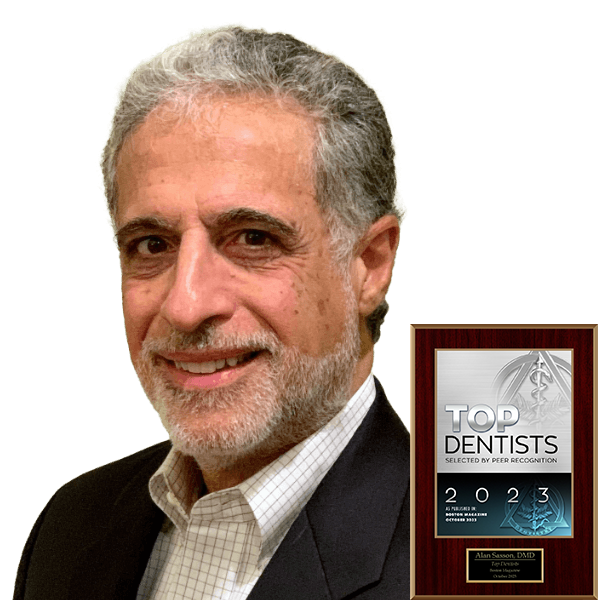 Dr. Alan Sasson is a widely respected cosmetic, restorative, and implant dentist in Brookline with more than 35 years of experience. His goal with every patient is to make them feel comfortable and fully informed when it comes to their dental care, and he does this by spending more one-on-one time with you than your average dentist. With him, you can trust that your questions will be answered and your smile will be pristine thanks to a fully personalized treatment plan. Before you have a chance to meet him in person, you can learn more about Dr. Sasson below.
Where Did You Study Dentistry?
Dr. Sasson earned his dental degree from the Goldman School of Graduate Dentistry at Boston University, and he has his certification in Oral Implantology from Brookdale Hospital in New York. In the past, he has held faculty appointments at the Harvard School of Dental Medicine, the Forsythe Institute, and the Medical Research Foundation of Boston. He has also published prestigious papers in peer-reviewed publications, including The Laryngoscope.
Dr. Sasson's leadership in the greater Boston dental community is well known. He is the past president of the Brookline Dental Society, the Boston Dental Collaborative, and the Boston Society for Dental Esthetics. He has been honored on more than one occasion by Boston Magazine in their Best of Boston issue for cosmetic dentistry.
Currently, his professional memberships include:





Outside of the Dental Office, What Do You Like to Do?
Dr. Sasson is the founder of the Career in Dental Assisting Institute, a boutique teaching facility for the training of professional dental assistants. The Institute offers the only affordable fast-track 10-week program that allows graduates to become licensed in the State of Massachusetts.
Already licensed dental assisting professionals can also benefit from the school by learning new and advanced skills by enrolling in one of their Advanced Training modules. "Learning new skills always boosts professional pride and financial security," says Dr. Sasson. To learn more about the Institute, visit www.careerindentalassisting.com/
Dental practices can also partner with the Institute to help with their staffing needs by enrolling in their placement agency at www.careerindentalassisting.com/hire-an-alumni/
When he is not in the office reviewing patient cases, Dr. Sasson loves spending time with his family, improving his painting skills at the Museum of Fine Arts in Boston, swimming, lying in his hammock, and playing the humbling sport of golf.