Smile Confidently with Teeth Whitening in Brookline, MA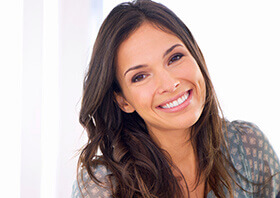 Your smile is one of the first things someone else will notice about you. Don't let stained or yellow teeth give the wrong impression. With professional teeth whitening, you can reclaim a bright, youthful smile in a matter of hours. As a leading cosmetic dentist in Boston, Dr. Sasson offers several options for professional teeth whitening, including:
In-Office Whitening
One of the most popular procedures available, in-office whitening can dramatically improve the appearance of your smile in about an hour. We use the Glo teeth whitening system for minimal post-whitening sensitivity. With Glo in-office whitening, your teeth will brighten by several shades in a single visit. For most cases we recommend two treatments in our office over the course of 12 months. For long-lasting results, we usually send patients home with a take-home whitening product, as well.
Customized Take-Home Whitening
The Opalescence and DayWhite 30-minute take-home systems are both completely customized to fit your smile and your lifestyle. Dr. Sasson first takes impressions of your teeth and then creates a customized tray perfectly molded to the contours of your teeth. In addition to these trays, you'll be sent home with syringes of prescription-strength whitening gel. Daily use of the trays and the gel will lighten your teeth significantly.
Take-Home Whitening Trays
Patients wanting a more economical system that delivers great results can opt for Trèswhite disposable trays. These trays aren't customized to your mouth, but they are easy to use, and the prescription-strength formula lightens teeth more effectively than over-the-counter brands. You simply place the tray in your mouth, adjust the inner tray, and wear it for 60 minutes, once a day. It's that easy, and the results are fast and effective.
White Spot Removal
Boston Smile Center offers white spot removal service.