Cosmetic Dentistry for Brookline, Newton, & All of Greater Boston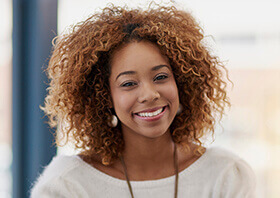 Your smile involves more than just teeth. To create the desired effect, all aspects of the face should be considered. As a cosmetic dentist, Dr. Sasson creates symmetrical, balanced, and functional smiles using only the latest materials. Our patients love the natural results that modern procedures like porcelain veneers and crowns can deliver.
Dr. Sasson is one of only a handful of dentists to earn his fellowship with the International Academy for Dental-Facial Esthetics. He devotes much of his practice to improving the appearance of smiles, and he's even patented his own method for custom restorations called Ceramel® Dentistry. His unique system results in smile designs as custom and unique as our patients.
We offer excellent cosmetic solutions to patients in and around Greater Boston. Those solutions include:
Did you know you can see your smile before you commit to cosmetic dentistry? With SmileMagic, Dr. Sasson shows you digitally enhanced images of your smile. These images can be an invaluable resource during the decision-making process. Ask Dr. Sasson about digital imaging at your consultation.