Cosmetic Dentistry for Brookline & All of Greater Boston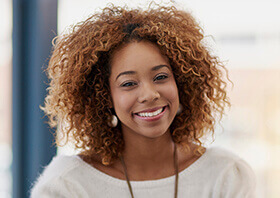 Your smile involves more than just teeth. To create the desired effect, all aspects of your face need to be considered. As a cosmetic dentist, Dr. Sasson creates symmetrical, balanced, and functional smiles using only the latest materials. Our patients love the natural results that modern procedures like porcelain veneers and crowns can deliver.
Dr. Sasson is one of only a handful of dentists to earn his fellowship with the International Academy for Dental-Facial Esthetics. He devotes much of his practice to improving the appearance of smiles, and he's even patented his own method for custom restorations called Ceramel® Dentistry. His unique system results in smile designs as custom and unique as our patients.
We offer excellent cosmetic solutions to patients in and around Greater Boston. Those solutions include:
Teeth Whitening
In-office whitening and customized take-home whitening trays make it easy to get your smile multiple shades brighter. With high-quality bleaching solutions not available over-the-counter, you can achieve a smile that's free of extrinsic surface stains and intrinsic stains deeply embedded inside of enamel and dentin. Those looking for quick results will prefer in-office whitening, while those who need to whiten on the go or simply want to do so at their own pace can benefit from take-home options.
Porcelain Veneers
Through the use of high-quality ceramics, Dr. Sasson can produce ultra-thin porcelain veneers designed to sit on the surface of teeth. Once placed, you'll be able to hide any and all imperfections for many years to come! If you'd prefer to avoid removing any tooth structure, which is typically needed for traditional veneers, you can also take advantage of Vivaneers. This type of veneer is even thinner, allowing for placement without the step of removing tooth structure in the process.
Smile Makeovers
Do you need multiple cosmetic treatments to make your smile looking the way you want? Dr. Sasson is fully-qualified to examine your teeth and facial features in order to determine the best treatments for your needs. Your plan is fully customized to include a wide variety of cosmetic solutions, including porcelain veneers, whitening and orthodontics. Smile makeovers may also consist of restorative treatments if needed, including dental implants and ceramic crowns.
SmileMagic Preview
We understand if you feel hesitant about pursuing a specific treatment, especially if it requires the removal of tooth structure to complete. That's why the SmileMagic digital imaging software is so helpful. Our specially trained imaging technician can create an image of what you will look like after cosmetic treatment, removing any doubt that your smile will look exactly the way you imagine it to. Regardless of the treatment you're considering, our office can replicate its results via this software.
All-Porcelain Crowns
Worn down, broken or decayed teeth can be fully restored with the help of all-porcelain crowns. Not only do these restorations effectively seal off the tooth from bacteria, but they reflect light almost identically to natural teeth. With proper care, your crowns will last many years while still looking incredibly beautiful and natural. With Dr. Sasson's proprietary method for creating crowns, known as Ceramel®, you can achieve an extremely lifelike result.
White Spot Removal
Over time, foods and beverages acidic in nature can result in calcium loss of teeth. This causes teeth to take on a spotted appearance and even results in a higher risk of decay. With the help of Icon technology, we can remove these spots by rebuilding the surface of your tooth enamel permanently. If you've recently had braces removed and notice white spots on your teeth, you will also find this treatment quite effective.
Glo Teeth Whitening
Professional strength whitening from GLO is the perfect way to get your smile looking brighter. Dr. Sasson's office provides the treatment for those who struggle with sensitivity, but still want to quickly achieve a smile that's five times whiter! This treatment is available in-office and via take-home options. Both can provide the results you're looking for depending on your schedule. It's even faster than Zoom! Whitening, a common competitor in the teeth whitening space.
Did you know you can see your smile before you commit to cosmetic dentistry? With SmileMagic, Dr. Sasson shows you digitally enhanced images of your smile. These images can be an invaluable resource during the decision-making process. Ask Dr. Sasson about digital imaging at your consultation.