Gum Disease Treatment – Brookline, MA
Protecting the Foundation of Your Smile
Periodontal therapy, also known as gum disease treatment, helps patients struggling with bleeding gums, chronic bad breath, and other common symptoms of gum disease. Using a special soft tissue laser, Dr. Sasson can easily target the affected areas and remove your infection. Gum disease treatment with a Biolase Waterlase laser is less invasive than periodontal care with a scalpel and stitches. That means patients can look forward to a more comfortable experience and a much faster recovery period.
In the case of both decay and gum disease, early treatment is very important. When decay isn't addressed, it's possible for a serious infection to develop. Tooth loss also becomes a possibility, especially with untreated gum disease. Beyond this, gum disease can also increase one's susceptibility to a range of health problems in the rest of the body. In both cases, Dr. Sasson and his talented team at Boston Smile Center will work with you to develop a completely customized plan for gum disease treatment in Brookline that truly addresses your needs.
Why Choose BOSTON SMILE CENTER for Gum Disease Treatment?
Fast & Comfortable Laser Gum Therapy
Dentist with 35+ Years of Experience
On-Staff Board-Certified Periodontist
Scaling & Root Planing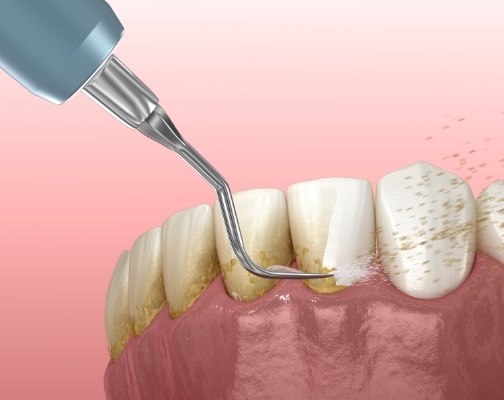 Scaling and root planing is similar to a routine dental cleaning except that it just focuses on your gumline and the tooth enamel underneath it. We'll remove all of the bacteria-filled tartar deposits with scaling, and then the roots of the teeth will be smoothed out (or planed). Together, this helps stop an active infection, reduces the chance of it coming back, and helps the gums heal more quickly than they would otherwise.
Laser Periodontal Therapy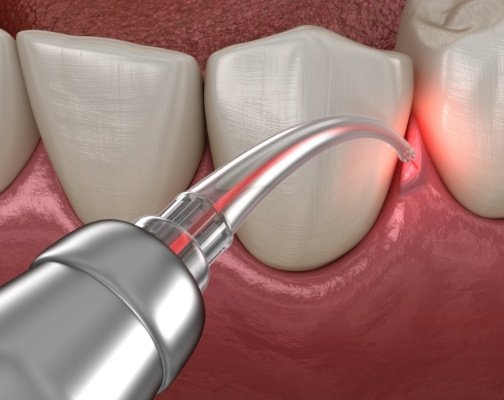 Dental lasers enable our dentists to treat gum disease with more precision and accuracy than ever before while keeping a patient extremely comfortable. A concentrated beam of light can quickly remove tartar as well as infected tissue while sanitizing and cauterizing the treatment area. This not only speeds up recovery compared to traditional methods, but it also ensures that the patient basically feels nothing while they are in the chair.