Dental Bridges - Brookline, MA
Get Rid of the Gap
If you've lost teeth due to accident, injury, or gum disease, we can create a fixed bridge to restore your solid smile. A bridge not only fills the gap, but it also prevents repositioning of remaining teeth. It can also correct a misaligned bite, improve chewing function and speech articulation, and provide internal structure for the face to give you a more youthful appearance. To learn more about our fixed dental bridges in Brookline, all you need to do is call our dental office today!
Why Choose BOSTON SMILE CENTER for Dental Bridges?
Dentist with 35+ Years of Experience
Friendly & Extremely Knowledgeable Team
Guided by the Latest, Proven Technology
What Is a Fixed Bridge?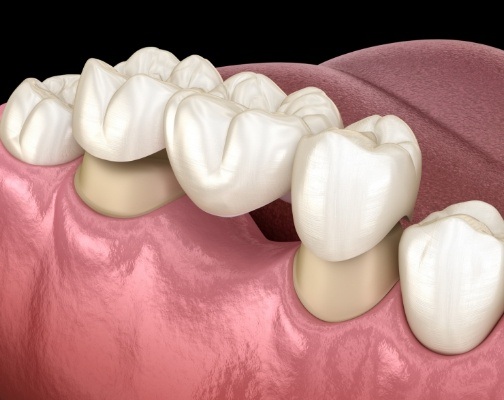 A fixed dental bridge is a prosthetic tooth (or teeth) that attaches on one or both sides to teeth prepared with dental crowns. The bridge is joined onto the neighboring abutment teeth (crowned teeth) and consists of three basic units: the false tooth or teeth (called a pontic) and two abutment crowns. If healthy adjacent abutment teeth aren't available, a surgically implanted metal post, known as a dental implant, may offer a solid alternative. For a bridge that replaces many teeth, we may recommend a removable partial denture or implant-supported prosthesis.
If you live in Newton or the neighborhoods of Brighton, Allston, Fenway, or beyond, we would be happy to restore your smile with a custom-made dental bridge.