General, Family, Restorative & Cosmetic Dentistry in Boston, MA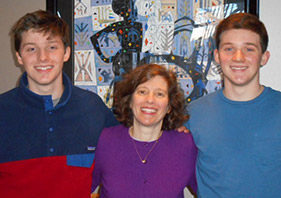 As a general dentist with over 25 years of experience, Dr. Alan Sasson offers a variety of traditional and specialized dental services. Patients can receive care ranging from adult orthodontics to custom smile makeovers and everything in between. We take pride in providing our patients from Brookline, Newton, and the Greater Boston area with the latest services and technology. We also pride ourselves on our exceptional customer service. Your goals and needs truly matter to us.
Patients love that they can receive the majority of their dental care right at our Boston/Brookline dental office. Dr. Sasson's far-reaching expertise encompasses everything from dental implant placement to custom cosmetic dentistry. A fellow of the International Academy for Dental Facial Esthetics, Dr. Sasson is devoted to helping patients discover their best smiles.
Explore some of our options for exceptional general dentistry, and then call the office for your appointment. We look forward to helping you preserve your oral health for a lifetime.
General & Family Dentistry
When it comes to combatting the most common oral health problems (i.e., tooth decay, gum disease, bad breath), preventive dental services like regular checkups and cleanings, as well as mercury-free fillings and periodontal therapy can be most effective. As a dentist in Boston, MA, Dr. Sasson and his team can treat smiles of all ages, allowing you and your entire family to receive the same great level of care all under one roof.
Restorative Dentistry
When teeth are decayed or severely damaged, it is restorative dentistry that can make all the difference. Whether you need a filling, dental crown, bridge, dentures or partials, laser dentistry, or root canal therapy, our team is here to ensure your safety and comfort while working to better protect your weakened teeth. No matter the type of restoration you receive, you can trust that it will blend in beautifully with the rest of your smile, creating a seamless, durable look.
Adult Orthodontics
Tired of living with crooked or gapped teeth? Ready to do something about your poorly aligned bite? With adult orthodontics, you can be well on your way to a new and improved smile before you know it. Dr. Sasson offers a wide array of options, each of which will put you on the path to achieving your smile goals. No matter if you suffer from overcrowding, spaces between teeth, crooked teeth, or a bite alignment issue, we can recommend the right form of treatment and ensure life-changing results.
Cosmetic Dentistry
Stains, chips, cracks, discoloration, and minor gaps or alignment can not only negatively impact your oral health but also your self-esteem. If it's time to do something about your imperfect smile, cosmetic dentistry may just be the right solution for you! From porcelain veneers and teeth whitening to all-porcelain crowns and smile makeovers, you can hide, eliminate, and blast away imperfections, leaving you with a show-stopping smile that will be the envy of everyone around you.
BOTOX & Dermal Fillers
If your goal is to improve the look of your smile and your facial appearance, you may be surprised to learn that you can take care of both in one convenient location! Dr. Sasson is trained by the American Academy of Facial Esthetics to administer BOTOX and dermal fillers to individuals looking to reduce fine lines and wrinkles as well as plump areas of the skin that may appear sunken. With more than 25 years of experience, he can safely enhance your aesthetics, giving you a well-rounded, beautiful, and natural appearance.
Dental Implants
If missing teeth are part of your daily life, it's time to consider a tooth replacement solution that offers permanence, functionality, longevity, and a natural appearance. With dental implants, we can mimic your natural tooth structure and improve your oral health. Surgically placed into your jawbone, these "roots" will continue to stimulate your bone, allowing you to bypass many of the most common problems associated with tooth loss (i.e., facial collapse, shifting teeth). As a result, you can enjoy a healthier, more functional smile for decades.