Porcelain Veneers – Brookline, MA
Perfecting Smiles with Porcelain Veneers
Your teeth are not just important for chewing and speaking. They also create your smile. If they are chipped, broken, or discolored, it can prevent you from smiling with confidence. You do not need to live with your imperfections. You can get the smile of your dreams with porcelain veneers in Brookline. At Boston Smile Center, we can revitalize your smile and your self-esteem after just two appointments.
What are Porcelain Veneers?
Veneers differ from dental crowns because they do not cover the entire visible portion of a tooth. Instead, they only cover the front surfaces using a thin shell made of porcelain. They instantly improve the color, size, shape, and proportion of a tooth using a minimally invasive treatment.
Now, porcelain is the preferred material because it allows veneers to be thinner so less of your enamel is removed during the bonding process. Not to mention, it closely mimics the appearance of your enamel to create natural-looking results.
What is the Process?
Generally, if your teeth and gums are healthy, you are a candidate for veneers, but you need a consultation with your cosmetic dentist in Brookline, Dr. Sasson, to ensure they are right for you. He creates a customized treatment plan to transform your smile in 2 appointments.
Your teeth are cleaned and prepared during your first visit, which involves removing a small amount of enamel to ensure they sit flush on your teeth. Dr. Sasson takes an impression to allow the dental lab to craft your veneers to meet your specific needs. This can take a couple of weeks, so he attaches temporary ones while you wait. After your final veneers are sent back to our office, you return to have them bonded to your teeth.
What Can Veneers Fix?
Your tooth size, shape, and color can be altered with porcelain veneers. They are effective for correcting several issues at once, such as:
Dark tooth discoloration that will not respond to whitening treatments.
Chipped, cracked, short than average, or abnormally shaped teeth.
Close gaps between teeth.
Cover minor alignment concerns without having to wear braces.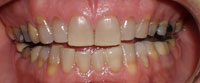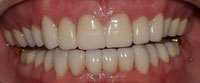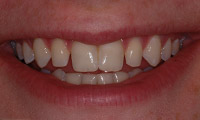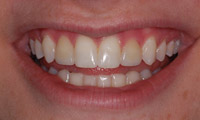 How Long Do Veneers Last?
Veneers provide you with a long-term solution to enjoy a beautiful smile. On average, they last for about 10 years before needing to be replaced. You can help to protect their longevity by:
Brushing with a soft-bristled toothbrush and nonabrasive toothpaste twice a day.
Cleaning in between each tooth with a high-quality dental floss every night.
Wearing an athletic mouthguard when playing sports.
Avoiding using your teeth as tools to open packages.
Not chewing on inedible objects, like your nails or pencils.
Not biting into overly hard foods, like ice.
Besides caring for your new smile at home, do not forget to visit your dentist twice a year for a cleaning and checkup. They will also check your veneers to ensure they are undamaged and bonded to your teeth well. If one is damaged or compromised, we can easily replace it.
Enjoy a Beautiful Smile
You can get the attractive smile you have always wanted with cosmetic dentistry. Contact our office today to see if porcelain veneers are right for you.