Perfecting Brookline Smiles with Porcelain Veneers
A smile just isn't a smile if it contains cracked, broken, or stained teeth. If these or other issues prevent you from smiling with confidence, porcelain veneers may be the answer. After two visits to our Brookline dental office, you can enjoy a revitalized smile and soaring self-confidence.
What are porcelain veneers?
In dentistry, a veneer is a thin layer of porcelain used to improve the aesthetic appearance of a tooth. Typically, several veneers are placed in the "smile zone" to mask misalignment, stains, and other imperfections. Using his patented Ceramel® technique, Dr. Sasson custom designs veneers that mimic the translucency, color, and shape of beautiful, natural teeth.
What's the Difference between Veneers and Crowns?
Porcelain veneers are actually a more conservative option than crowns. Because the veneer is bonded to the surface of the tooth instead of encompassing the entire tooth, only a small amount of enamel is buffed away prior to veneer placement. In cases where spaces need to be closed, no buffing may be required, as seen in the video below.
How Do I Know If Veneers Are Right for Me?
Most patients who would like improved smiles in a short time frame are candidates for porcelain veneers. In just two visits, your tooth size, shape, and color can be altered with porcelain veneers. To know without a doubt if veneers are right for you, visit Dr. Sasson for a consultation. With SmileMagic software, we can even show you the proposed outcome before you begin treatment.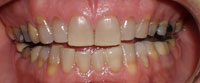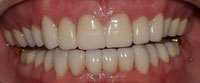 Laser treatment to correct a gummy smile and all porcelain crowns were needed to rejuvenate this badly worn out smile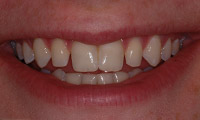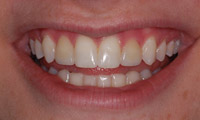 Porcelain Veneers
We offer this great service to patients from Brookline and the neighborhoods of Kenmore, Mission Hill, Jamaica Plain, and West Roxbury.