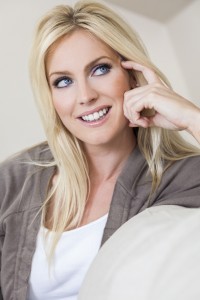 As we age, our skin inevitably begins to show the tell-tale signs of time. Wrinkles, fine lines, drooping contours and deep creases can make you look years older than you truly are. While plastic surgery is a viable solution for some, we understand that not everyone wants to commit to an invasive procedure to achieve youthful, beautiful results. At Boston Smile Center in Brookline, MA, Dr. Sasson and his team know that your time is a valuable commodity. That's why we offer the advanced cosmetic technology of dermal fillers and BOTOX® Cosmetic in the same office you visit for all of your dental care needs.
How Can Cosmetic Solutions Help Me?
When skin ages, collagen production gradually slows. This results in looser, less voluminous skin that is more vulnerable to lasting wrinkles and creases. Lips and cheeks lose their natural volume. The most common areas of concern are:
The forehead and the space between the eyebrows
The area around the mouth, particularly the creases that form from smiling or frowning
Crow's feet at the edges of the eyes
Fine lines above the upper lip
Thinning lips and sunken cheeks
Fortunately, cosmetic injectables like BOTOX® Cosmetic, Restylane and Juvederm can help restore your skin's youthful vitality in a way that isn't invasive like traditional plastic surgery. Dr. Sasson's expertise and experience help you reclaim the firm, radiant skin you miss from your youth in a way that makes you feel comfortable and confident.
The Youthful Glow You Deserve
Millions of men and women have already experienced the numerous benefits associated with cosmetic injections like BOTOX® Cosmetic, Juvederm, Restylane and more. Contact our office in Brookline, MA today to find out how Dr. Sasson can help you achieve the smoother, fresher face you desire, all in a warm, welcoming atmosphere that makes you feel right at home. Our practice also serves patients from throughout the nearby areas of Somerville, Newton, Boston, Cambridge, Chelsea, and more.