April 27, 2012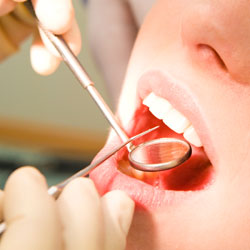 No matter what time of the year it is, it's always a great time to schedule your next regular dental visit. But because April is Oral Cancer Awareness Month, there's no better time than now if you haven't come to our Brookline dental office yet for an appointment.
During your appointment, Dr. Sasson can talk with you about how your smile is doing and conduct a thorough oral exam, complete with oral cancer screening. This last step—the oral cancer screening—is one of the most important aspects of any dental appointment.
Why?
Because an oral cancer screening could save your life. Many cases of oral cancer aren't detected until the disease is already in its later stages, when it's harder to treat. Which is why Dr. Sasson completes an oral cancer screening as part of every regular exam—because catching it early could save your life.
This holds true even if you don't have any of the risk factors commonly associated with oral cancer. Maybe you've never smoked or used another tobacco product in your life, and maybe you rarely if ever drink alcohol. That's no guarantee. An estimated 25% of oral cancers occur in patients who have no risk factors at all.
Do you want to find out more about oral cancer and how it can be found and treated? Dr. Sasson would be happy to answer any questions you might have, especially during Oral Cancer Awareness Month. Give our Brookline dental office a call today to schedule you appointment.
No Comments »
No comments yet.
RSS feed for comments on this post.
Leave a comment