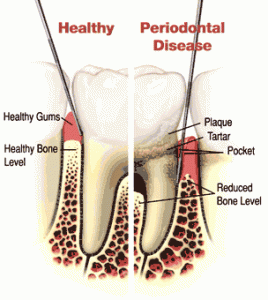 The oral health problem patients experience most, surprisingly enough, isn't cavities or teeth grinding; in fact, it doesn't directly affect your pearly whites at all! Gum disease (also referred to as periodontal disease) is actually the most commonly experienced disease period, affecting a staggering 80% of the population. It commonly goes unnoticed due to its initial, milder symptoms, but patients with cases that have progressed to more advanced levels often experience devastating oral damage, up to and including tooth loss. But how can you tell whether or not you're suffering from gum disease? Here in Brookline, Dr. Sasson and his team are committed to helping patients better understand the facts behind their oral health and what they can do to ensure their smiles stay happy and healthy for years. While a professional opinion is always best for determining the true threat of common issues such as gum disease, here are some symptoms that you can keep an eye out for at home:
If your gums bleed during or after brushing/flossing
If you suffer from bad breath that persists even after the use of mouthwash
Any tenderness, swelling, or discoloration of the gums
If your bite begins to feel strange or looser, in a way
If chewing becomes painful
Teeth that appear longer (a sign of receding gums)
Here at Boston Smile Center, patients suffering gum disease can receive the treatment they need with the help of our Laser Periodontal Therapy™, which relies on our Biolase Waterlase Dental Laser instead of a scalpel to quickly and comfortably remove infection without compromising tooth structure. It's really that simple!
Contact our Brookline office today to schedule a FREE consultation with Dr. Sasson! Our team loves giving patients a reason to smile with our transformative dental care.