Periodontal Therapy for Brookline & all of Greater Boston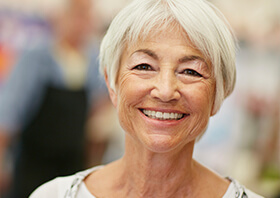 Three out of four Americans suffer from the ill effects of gum disease and millions are in danger of losing their teeth. Yet only three to five percent of those afflicted with gum disease seek treatment – likely because traditional scalpel/suture flap surgery scares them away. Who can blame them?
The world's first patented and FDA-approved Laser Periodontal Therapy™ will change the way you feel about gum disease treatment. Laser Periodontal Therapy™ gives patients a no-cut, no-sew alternative to conventional gum surgery, with fewer office visits and an abbreviated recovery time. You can drive, go back to work, or even go to lunch immediately after your treatment!
Laser Periodontal Therapy™ employs our Biolase Waterlase Dental Laser, rather than a scalpel, to remove infection in the pocket between the tooth and gum, so the procedure is less invasive and far more comfortable than the old method. The same laser also seals the cleansed site with a blood clot, which results in faster healing and no need for stitches. Laser Periodontal Therapy™ enables doctors to preserve more healthy bone and tissue, so it's a conservative procedure. In other words, we can now eradicate infection without compromising tooth structure.
Studies show that Laser Periodontal Therapy™ even regenerates, or restores, diseased root surfaces and reconnects tissues in 100 percent of cases. Known as a "biocompatible" therapy, Laser Periodontal Therapy™ enlists your body's healing mechanisms.
Some patients with gum disease, a chronic bacterial infection, bleed when they brush or floss, or they suffer from persistent halitosis (bad breath); others may have loose or wobbly teeth. You may show some symptoms…or none at all.