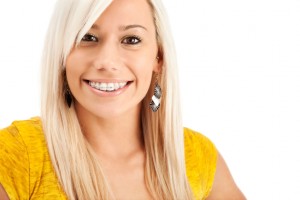 For many patients who struggle with crooked, gapped, or misaligned smiles, treatment often seems just as bad or worse than the current state of their smiles. A mouth full of metal, months with diet restrictions, extra time spent on oral hygiene, and hours in the orthodontist's chair, may seem like more trouble than they're worth. Lucky for our patients, Boston Smile Center offers a wide variety of orthodontic treatment options to avoid a mouth full of metal, hours spent in the office, and any other concerns patients may have with traditional orthodontic treatment.

Orthodontic Options
Boston Smile Center offers the widest variety of alternative orthodontic treatment available for image conscious, busy adults and teens in the Boston area including:
Damon Clear Braces – Unlike other "clear" braces that are actually tooth colored or only partially clear, Damon braces work like traditional braces using a system of brackets and arch wires to gently shift teeth into proper alignment. Unlike traditional braces, the Damon Clear system is completely clear offering the most discreet smile alignment option.
The STb Light Lingual System – Just like traditional braces but inside teeth instead of on the surface of smiles, lingual braces systems offer patients a cosmetic alternative to traditional braces. Lingual braces are effective in treating even the most severe bite misalignment, and unlike other traditional braces, the STb Light Lingual System has the lowest bracket profile (the amount the bracket sticks off of the tooth) creating only minimal impact on tongue position and speech.
Invisalign – One of the most popular treatment options on the market, Invisalign uses a series of clear, plastic alignment trays to shift teeth into alignment over the course of about a year. As teeth progress, new sets of trays are used to continue the movement of teeth into ideal alignment. Patients love Invisalign because the removable trays don't impact their diet or oral hygiene routines, and are rarely noticed by observers.
Insignia Braces – The most technologically advanced braces system, Insignia braces use computer-assisted design (CAD) to customize orthodontic treatment down to the individual bracket. Each patient has a set of brackets and wires designed and placed specifically to meet their orthodontic needs.
Accelerated Orthodontics – Propel is a revolutionary tool in orthodontics that makes treatment faster than ever. Patients who use Propel in conjunction with orthodontic treatment can completely align their smiles in as little as 3 months. Propel stimulates the bone around tooth roots allowing them to move more quickly into position.
Six Month Smiles – By focusing on just the teeth that are in view when patients smile and talk, the six month smiles system is able to give patients with minor orthodontic concerns a straighter smile in just a few months.
Find Out More
If you're interested in pursuing a straighter, more beautiful smile without the hassle of traditional orthodontics, Boston Smile Center has a wide variety of orthodontic options to make any smile flawless. Contact our Brookline, MA dental practice to schedule an orthodontic consultation today.