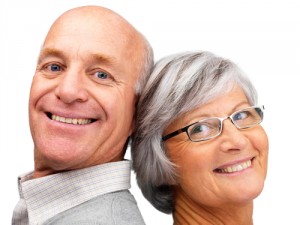 In our last blog post, we discussed the benefits of pursuing dentures or partials to cover up embarrassing gaps in your smile. But what if you're looking for a more secure solution? While dentures usually stay in place with either clips or natural suction, they can sometimes slip when eating or speaking, which could lead to embarrassing situations. In addition, there's one issue that dentures or partials won't be able to solve: bone loss in your jaw. At Boston Smile Center in Brookline, MA, your specific needs are important to us, and that's why, in place of traditional dentures and partials, Dr. Sasson can now offer you implant-supported dentures, a new procedure that will be sure to put a smile on your face.
How are implant-supported dentures different?
Dental implants are small titanium posts that are anchored to your jawbone. After a brief surgery where they'll be put into place, your dentures will be attached to them, resulting in a firm and comfortable fit.
There are several benefits to choosing implant-supported dentures, such as:
The surgically placed implants will allows remaining bone in the gums to survive, and they can even help new bone tissue to grow.
Many of the pressure points traditional dentures rub against are relieved.
Barely any food choices will be off-limits.
You won't have to feel embarrassed about your denture slipping while speaking or eating. You can live life worry-free!
Do implant-supported dentures sound like the right choice for you? You can learn more about dental implants here, and feel free to peruse our website for more information about the other restorative dentistry techniques we can offer you. Feel free to call Boston Smile Center in Brookline, MA if you have any questions, or if you're ready to schedule your FREE consultation with Dr. Sasson today.