Dentures – Brookline, MA
Missing Many Teeth? We Can Restore Them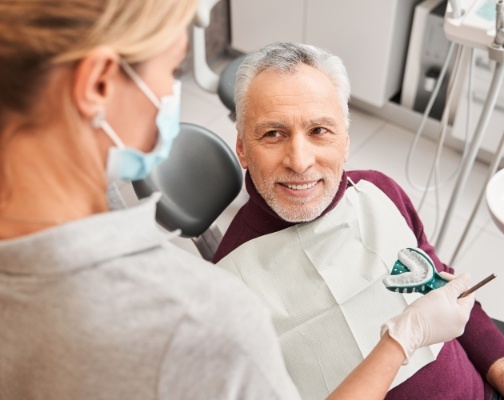 The more teeth you lose, the more of an impact it will have on your ability to function in everyday life. You won't be able to chew your favorite meals, and even something as simple as speaking will be difficult. Fortunately, there's an easy way to compensate for extensive tooth loss: simply schedule an appointment to ask our Boston Smile Center team about getting a full or partial denture! With just one affordable prosthetic, you'll be able to enjoy the benefits of a full smile again.
Who is a Good Candidate for Dentures?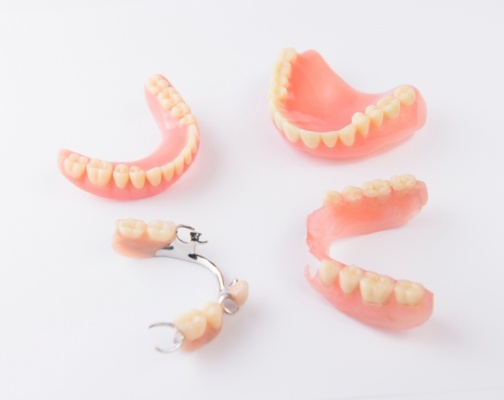 If you're thinking about getting dentures, it usually means one of two things: either you've already lost most or all of your teeth, or you are planning to have extensive tooth extractions for oral health reasons. We will consider dentures along with other tooth replacement options during an initial consultation. Generally speaking, dentures will offer the most cost-effective way to replace large numbers of teeth simultaneously.
When we're examining your mouth, we'll take note of tooth decay, gum disease, and other dental concerns. We will work the appropriate forms of treatment for these issues into our plan so that your smile is healthy as well as whole at the end of the process.
Types of Dentures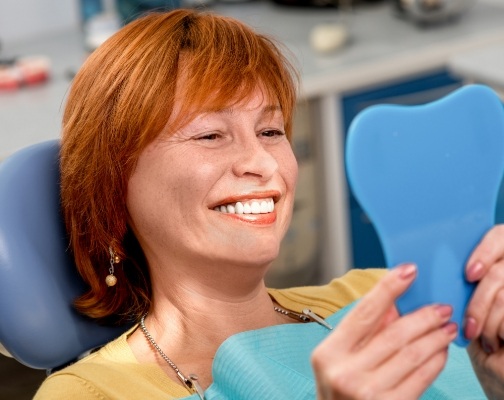 Today's dentures are more comfortable and reliable than ever before thanks to state-of-the-art materials and advanced design techniques and technology. There are actually several types of dentures available; our team will consider the number of teeth missing as well as the overall health of your gums and jaw before recommending one of the following three options.
Partial Dentures
A partial denture is used to replace one or multiple teeth. This is the best option for those who still have most of their natural teeth. Each partial denture is designed to slip into the gaps in an arch in a seamless way. Most of the time, the prosthetic will be held in place with a clasp attached to the natural teeth.
Full Dentures
Full dentures are the best choice for those who have already lost an entire row of teeth or don't have enough healthy teeth to salvage. The prosthetic teeth attached to a full denture will be custom shaded and shaped based on the overall appearance of your smile and the rest of your face. Traditionally, full dentures simply rest on the gums and stay where they are thanks to suction.
Implant Dentures
Implants are the most advanced tooth replacement option available. Now you can anchor your dentures to your jaw with the help of titanium implant posts. This helps minimize unwanted movement and keeps the underlying bone tissue healthy.
The Benefits of Dentures
• Allows you to restore all of your teeth at once so you can enjoy a varied, healthy diet without pain
• A cost-effective option compared to other tooth replacements
• New teeth that can be completely personalized
• A lifespan of 10 years or longer with proper maintenance
• Support for your facial muscles to preserve the shape of the face