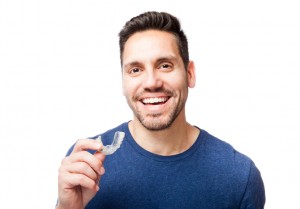 It's 2017 and this year will be different. This year, you'll find The One. She's out there, and, with the multitude of online dating sites, you know you can find her. You're a good-looking guy with smarts and heart – you've got a cleverly crafted profile that illustrates all you have to offer. But when it comes to your pictures, there's one thing missing – a wide grin full of perfectly straight teeth. Sure, you're smiling in some shots, but always with your lips closed. You want to straighten your teeth, but you're afraid that if The One sees a picture of a guy with a mouthful of metal, she'll pass you by. What can you do? You can stop by Boston Smile Center and learn about all the different choices you have for adult braces with the best dentist in Boston, Dr. Alan Sasson.
Options for Adult Braces
With Dr. Sasson, you have your choice of 6 innovative treatment options for adult braces. Gone are the days of noticeable braces and the self-consciousness that goes with them. Get the details from Boston Smile Center on what you can do to straighten your teeth and look great while doing it:
Invisalign® – With this well-known straightening option, you'll be custom fitted for clear aligners that gradually correct all levels of overcrowding, spacing issues, and common bite issues. Every two weeks, you'll switch to new aligners that will gradually straighten your teeth. You'll still be able to enjoy all your favorite foods, the aligners are super comfortable, and you can take them out for important events, if you want.
Clear Damon Braces – These clear bracket braces are different from traditional braces because they use a "passive slide." They're a good alternative to rubber bands and wires, which can actually slow down treatment and tend to be painful and very noticeable. Clear Damon Braces create a fuller smile of straight teeth in a faster way, with little to no discomfort at all as teeth move into their rightful places.
STb Braces – Ready for truly invisible braces? With STb, the brackets and wires are hidden behind your teeth, on the inside surface. STb are great because they reduce friction with your lips and tongue and are lighter in force. They're perfect for all levels of tooth alignment issues and have a high level of control, which produces a great result.
Insignia Custom Digitally-Crafted Clear Braces – With Insignia, your braces are not only clear, but they're also 100% customized with both brackets and wires. Computer-assisted design creates a 3D model of your teeth so Dr. Sasson and his team can create your movie-star smile. You'll even be able to take a sneak peek of what your teeth will look like after you're all done with a computer-enhanced graphic of your future teeth.
Six Month Smiles – Just like it sounds, your teeth will be beautiful in 6 months! You'll quickly be on your way to finding The One once Dr. Sasson applies the clear brackets and tooth-colored wires that are barely visible. Not only are these braces a time-saver, you'll also save money with fewer office visits and checkups.
Accelerated Orthodontics – Can braces really be fast? With PROPEL® at Boston Smile Center, you bet they can be! PROPEL® uses your own body's intelligence to stimulate bone growth around your teeth, making them move faster. PROPEL® is included with all Insignia, Damon Clear, Invisalign, STb and Six Month Smiles® treatments when you work with Dr. Sasson and his team. Boston Smile Center also offers AcceleDent®, a hands-free device used for 20 minutes a day, that accelerates tooth movement with SoftPulse micropulse technology.
See? That wasn't so bad! As an adult, you've got plenty of grown-up options for adult orthodontics in Boston when you visit Boston Smile Center. In no time at all, you can be well on your way to making sure The One can spot your perfect smile from miles away when you work with Dr. Alan Sasson. What are you waiting for? Schedule your appointment today!