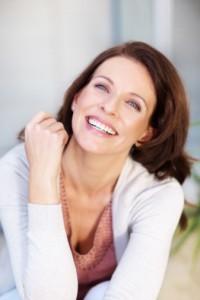 For thousands of years, people have relied upon removable dentures to restore smiles following tooth loss, but with the introduction of dental implants, patients are able to choose between removable and semi-permanent smile restoration. In many cases, the choice is clear, but some patients need a little extra help choosing between the two options. We encourage patients to schedule consultation appointments to allow our team to walk through the process, benefits, and drawbacks of each option before making a decision. To find out more before your appointment, visit our dental implant or dentures pages, keep reading, or feel free to give the friendly Boston Smile Center team a call.

Traditional Dentures in Brookline, MA
Traditional dentures replace the visible portion of patients' teeth utilizing natural suction to secure the restoration. Made up of prosthetic teeth set into a semi-flexible, gum-colored base, dentures are uniquely shaped to comfortably adhere to gums restoring patients' ability to smile, talk, and laugh with confidence. Removable dentures are easy to clean and store. Like natural teeth, dentures should be brushed twice a day. Using an ultra-soft bristled denture brush, patients should clean dentures in the morning and before going to sleep at night. Overnight, dentures are stored in water or a denture cleaning solution to allow the prosthetic to retain its shape. Make sure room temperature or cool water is used as warm water can change the shape of dentures.
Boston area Dental Implant Tooth Replacement
Dental implant supported dentures look similar to a traditional denture before they are placed. Composed of prosthetic teeth set into a gum colored base, implant retained dentures are connected to implant posts offering semi-permanent tooth replacement for edentulous (without teeth) patients. Dental implant posts serve to restore the root structure of teeth making implant retained dentures look, feel, and function more like natural teeth. Additionally, implant supported dentures retain bone density and gum tissue volume since they mimic the stimulation provided by tooth roots. Unlike removable dentures, these replacement teeth are worn at all times, cleaned like natural teeth, and restore up to 70% of chewing ability to patients. While this may sound like the obvious choice, for some this option can be less successful because it begins with the surgical placement of implant posts below the gum line. For immune compromised patients, those with minimal bone density, and those who have a medical history of unsuccessful surgical treatment, dental implants may not be a viable tooth replacement option.
Contact Your Smile Restoration Dentist in Brookline
If you're interested in restoring your smile, contact Boston Smile Center today. Our dentist and team offers skilled dental implant and denture smile restorations for patients from Boston, Brookline, and surrounding areas.