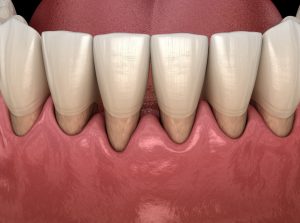 A beautiful smile is associated with youth, confidence, and success; however, not everyone is happy with the way their teeth look. Whether stains, chips, or gaps, your cosmetic dentist can create the picture-perfect smile you desire. However, if your gums aren't healthy, you may not be a candidate for cosmetic dentistry until after having periodontal therapy. Here's why healthy gums are a requirement to revamp your smile. 
Healthy Gums Before Cosmetic Dentistry
Cosmetic dentistry can address many aesthetic flaws to create an attractive smile. While your teeth may look better, elective services can cover up untreated dental issues, which can cause your investment to fail.
Your dentist will examine your mouth during your consultation to look for anything concerning, like gum disease. The preventable infection is caused by bacteria found in plaque and tartar. Without any treatment, it can destroy the supporting structures of your teeth, which can cause them to loosen and fall out. As a result, healthy gums are crucial before having any cosmetic work.
Treating Gum Disease
If you have gum disease, you're not alone. The Centers for Disease Control and Prevention estimates 50% of adults have the infection. You'll require periodontal therapy to stop the infection to ensure your new smile has a healthy foundation. There are many methods to treat gum disease, like:
Scaling and Root Planing: Also known as a deep cleaning, special dental instruments are used to remove tartar and smooth the tooth roots to encourage healthy gums.
Antibiotic Therapy: An antibiotic medication is placed in the gingival pockets to treat the infection.
Laser Gum Therapy: A highly concentrated beam of light energy targets infected tissue and kills 99% of bacteria to encourage the regeneration of healthy gums.
Depending on the severity of gum disease, you can be ready to move forward with a cosmetic dentist in a few weeks to several months. Your dentist will monitor your gum health to determine the best time to transform your smile.
Options for a Beautiful Smile
After your gum health has been restored, your cosmetic dentist will create a personalized plan to turn the smile of your dreams into reality. They'll explain all your options, which may include:
Teeth Whitening: Surface and age-related stains can be improved by up to 8 shades using a professional whitening system.
Porcelain Veneers: Bonding veneers to the teeth visible when smiling corrects many issues at once.
Metal-Free Restorations: Tooth-colored materials are used to improve the health and function of teeth.
Dental Bonding: A tooth-colored resin can correct minor aesthetic imperfections.
While you may not have expected to need periodontal therapy before improving your smile, it is time well-spent to ensure your investment thrives.
About Dr. Alan Sasson
Dr. Sasson earned his dental degree from the Goldman School of Graduate Dentistry at Boston University and has regularly continued his education to offer a diverse skill set, including periodontal therapy, dental implants, and cosmetic dentistry. Request an appointment through our website or call (617) 274-8528.