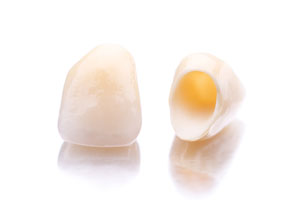 What happens when teeth become worn, decayed, or cracked? Your confidence and your oral health can suffer. That's why Dr. Sasson and his team at Boston Smile Center offer porcelain crowns. With all porcelain crowns and fillings, patients from Brookline/Boston and beyond can look forward to having a beautiful smile and a restored sense of self-confidence.
How Can Porcelain Crowns Help Your Smile?
Porcelain crowns let Dr. Sasson preserve damaged or decayed teeth by capping them with a crown instead of extracting them. As a result, your jaw stays strong and healthy even as your smile gets the help it deserves.
What's more, because porcelain mimics the look of natural teeth, you can have your old smile back. And thanks to Dr. Sasson's method for creating porcelain crowns, we can deliver something that's custom-made, that matches the shade of your surrounding teeth, and that fits in with your overall appearance.
What does a porcelain crown fix?
With all porcelain crowns, Dr. Sasson can mend:
Broken teeth
Cracked teeth
Decay teeth
Stained teeth
Missing teeth
The black line around your current crowns
Do you want to know more about porcelain crowns and how they can help you restore your smile? Call Boston Smile Center today to schedule your FREE consultation with Dr. Sasson. During your appointment, he can tell you if porcelain crowns are right for you and recommend a treatment plan.