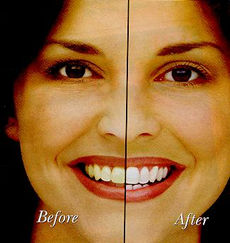 Here in Brookline, MA, we see several patients who are dreaming of beautiful, white teeth – and it's not hard to understand why. White teeth can suggest youth, charisma, attractiveness, wealth, and a variety of other positive attributes to people you meet before you even speak. Talk about a good first impression! But of course, that dream isn't always possible, whether because of age, medication, or simply because you like to have a cup of coffee in the morning. At Boston Smile Center, we want to make your smile shine no matter what, which is why we offer teeth whitening as a treatment option.  As a leading cosmetic dentist, Dr. Sasson can offer you several methods that will result in a brand-new, glowing look.
In-Office Whitening
With the help of the patented Zoom! Teeth whitening system, we'll treat you here in the office. After only around an hour, your teeth can be lightened up to ten shades, with minimal sensitivity afterwards. We'll also provide you with a teeth whitening kit to take home, for results that are both beautiful and long-lasting.
Customized Take-Home Whitening
If you'd prefer to whiten your teeth at home, we can provide you with a choice of a thirty-minute system that will perfectly fit both your routine and your mouth. When choosing this option, Dr. Sasson will create a customized tray that fits to the contours of your mouth specifically, and in addition, you'll be given prescription-strength teeth whitening gel. Use these tools daily and you'll see significant results in no time.
Take Home Whitening Tray
For those of you with little time and a tight budget, you can still undergo teeth whitening! Although Trèswhite disposable trays aren't customized to fit your mouth, they still produce stronger results than over-the-counter brands will. Simply wear the tray for sixty minutes a day and you'll see whiter teeth in the mirror before you know it!
Are you ready to pursue your dream of a whiter smile? Let us help you look your best, here at Boston Smile Center. Call us today to schedule your FREE consultation with Dr. Sasson, or feel free to peruse our website to learn about other dental procedures we can offer you.