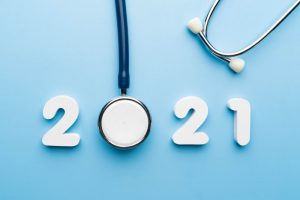 There's no better time to commit to keeping your household cavity-free and healthy than at the beginning of a new year. One of the best ways to start your year off right is to schedule you and your loved ones' annual medical checkups and their first semi-annual dental checkup and cleaning. Read on to learn why keeping your family's oral health on the right track is so important and how you can encourage good habits in your home.
What Happens During Your Checkups & Cleanings?
Checkups and cleanings are routine preventive appointments that are recommended by dentists and the American Dental Association in order to maintain the health of your teeth and gums. When you first walk into a dental practice to visit your dentist in Brookline, they'll get you situated in a comfortable treatment chair and begin your appointment by taking necessary X-rays of your mouth and conducting a visual examination. This is in search of any signs of common oral health problems, like cavities and gum disease.
After your checkup, a dental hygienist will thoroughly clear all plaque and tartar from the surface of your teeth. Even if you brush and floss diligently, these substances can gather in hard-to-reach areas of your mouth and put you at a higher risk of developing issues. Finally, before you go, they will polish your teeth to remove any surface stains from drinking coffee or consuming other stain-causing items, leaving your smile fresh and revived.
Why is it Important to Visit Your Dentist Every Six Months?
Visiting your dentist every six months is crucial in order to maintain good oral hygiene because oral health problems often develop discreetly, causing little to no symptoms at first until they progress enough to cause permanent damage to your smile. At these appointments, your dentist will be able to spot the earlies signs of these issues and treat them before you need to have invasive and costly treatments to repair the damage they caused. Not only will this save you money, but it will also allow you to continue enjoying your smile for the rest of your life.
What Questions Will Your Dentist Ask You During Your Checkup?
Before you schedule your checkup in the new year, it's important to be prepared to answer some questions from your dentist during your appointment. This is a no-pressure situation, so there's no need to feel anxious, they typically just ask about your medical history, oral health history, and whether you've been experiencing anything out-of-the-ordinary to gauge what they should be keeping an eye out for. They may also ask you if you want to protect your teeth with fluoride treatment after your cleaning, but this is up to you to decide.
Everyone's happy to see 2020 fade off into the sunset and welcome 2021 with open arms and a positive mindset. The best way to start the year off right for you and your family is to schedule your dental checkups and make sure that everyone is happy and healthy!
About the Author
Dr. Alan Sasson has been a dentist for over 25 years. He's passionate about helping families in Brookline optimize their oral health and take excellent care of their smiles by providing trustworthy, thorough preventive dental appointments. He's happy to treat patients of all ages and uses the latest techniques and technology to do so. For questions or to schedule a checkup and cleaning for your loved ones, visit his website or call 617-739-1017.