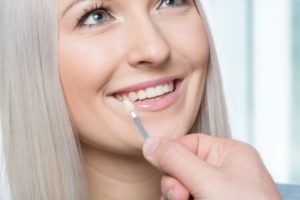 Do you cringe at the color of your teeth? Are you worried people will notice a chipped or misshapen tooth? There are all sorts of reasons why people might be dissatisfied with their smile. For many cosmetic changes, porcelain veneers – thin shells that cover the front of the tooth – can be a great solution, but it's important to be familiar with the procedure beforehand. Here are 5 things to keep in mind when considering porcelain veneers in Brookline.
1. You'll Need to Choose a Good Dentist
Like with any dental procedure, it's important to choose a professional you can trust to get quality results. While many practices offer veneers and other cosmetic treatments, some dentists have more specialized training in certain areas. You can check their credentials to see if their background is indicative of relevant experience, such as belonging to a professional organization focusing on dental facial esthetics.
2. Veneers Are Customized for Your Mouth
Each patient has specific needs for their teeth regarding color and tooth shape. Everyone wants whiter teeth, but you'll want a specific shade that looks natural in your mouth. Your dentist will help you choose the veneer's appearance and will take impressions to ensure that the finished product can address your needs.
3. Getting Veneers is a Process
After an initial visit to prepare the teeth and take impressions, you'll be given temporary veneers while you wait for a couple of weeks for the permanent ones to be made; once they're complete, you'll need another appointment to have them bonded to your tooth. You might experience some discomfort during the healing process afterwards, but this will fade over time.
4. Veneers Last About 10 Years
While veneers are very effective at hiding discolored, cracked and crooked teeth, they have an average lifespan of 10 years; you'll need to take care of them to make sure they last as long as possible. Brush well with a soft-bristled toothbrush and nonabrasive toothpaste, and always wear a mouthguard while playing sports. You should also avoid biting on inedible objects or hard foods such as peppermints.
5. You'll Need to Continue to See the Dentist Regularly
Your biannual dental checkups will also be an opportunity for your cosmetic dentist in Brookline to check your veneers to make sure they're undamaged and properly bonded to the tooth. The good news is that they can easily be replaced in such cases. Additionally, a thorough cleaning to ensure the health of the surrounding teeth and gums can have a largely positive effect on the longevity of your veneers.
About the Author
Dr. Alan Sasson has been practicing dentistry for over 25 years and has held faculty appointments at the Harvard School of Dental Medicine and the Medical Research Foundation of Boston. He has held several professional memberships including a fellowship to the International Academy of Dental Facial Esthetics. He offers a number of cosmetic dentistry options, including veneers. To schedule an appointment at his practice, Boston Smile Center, visit his website or call (617) 274-8528.