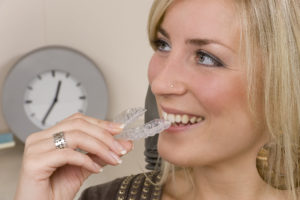 Do you wish you had a straighter smile but assume you are too old for orthodontic treatment? Think again! According to the American Association of Orthodontists (AAO), more than 1 in 4 orthodontics patients in the U.S. and Canada are adults. Moreover, the AAO also found that 75% of surveyed adults experienced a boost in their professional and personal lives after undergoing orthodontic treatment. Do you want to enhance your smile and your self-confidence? Keep reading to learn about the benefits of adult orthodontics in Brookline.
Types of Adult Orthodontics
Even if you are well past your middle school years, the age when many people first get braces, it is not too late to achieve the straight smile you have always wanted. There are a wide range of adult orthodontic solutions available today that can straighten smiles faster than conventional braces and without unsightly metal wires and brackets, such as:
Invisalign clear braces – This FDA-approved treatment uses translucent aligners that apply consistent pressure to gradually reposition teeth.
Clear Damon braces – The Damon System uses a patented slide mechanism to connect archwires to brackets instead of noticeable elastic ties.
Invisible STb braces – This discreet orthodontic treatment places brackets and wires on the backside of teeth instead of the front.
Insignia custom digitally crafted clear braces – Insignia uses computer-assisted designs to determine the most effective placements of brackets and wires. As a result, Insignia treatment is typically much faster than traditional braces!
Six Month Smiles – Clear brackets and tooth-colored wires deliver a straighter smile in just six months!  
The Advantages of Adult Orthodontics
Straightening your smile with adult orthodontics instead of traditional metal braces offers a number of advantages, such as:
Discreet Appearance – One of the greatest advantages of some of the orthodontic solutions mentioned above is that they are hard or almost impossible for others to notice. This means you can easily maintain your professional appearance while working toward a straighter smile.
Greater Comfort – Traditional metal braces can aggravate the inner cheeks and gums. Plastic aligners or brackets on the inside of teeth offer a more comfortable route to a straight smile.
Removability – Some adult orthodontic solutions, such as Invisalign, are easily removable for those important meetings or when brushing your teeth.
Healthier Smile – A straighter smile leaves fewer crevices in between teeth where plaque can accumulate and eventually cause gum disease.
Am I A Good Candidate?
Adult orthodontics in Brookline can address a wide range of dental imperfections. Regardless of your age, you may be a good candidate for orthodontic treatment if you have:
Misaligned teeth
Gaps in between teeth
Overcrowded teeth
A mild overbite, underbite, or crossbite
Remember, it is never too late to achieve the straight smile you desire, even if you are a working professional. Skip the unattractive metal braces and ask your dentist about adult orthodontics.
About the Author
Dr. Alan Sasson has over 25 years of experience helping men and women achieve straighter smiles through quality orthodontics. An active member of the International Association of Orthodontics, Dr. Sasson offers a wide range of orthodontic treatments at the Boston Smile Center, including everything mentioned in this blog. Adults interested in straightening their teeth can visit the Boston Smile Center website or call Dr. Sasson at 617-739-1017 to learn more.