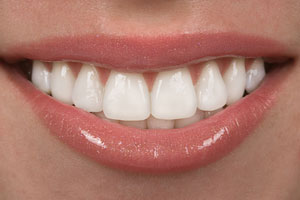 A beautiful smile can go a long way towards helping your confidence. Straight, white teeth suggest youth, success, and vitality to those around you – but as an adult, it can feel like you've missed your chance to undergo treatments like braces and teeth whitening, or maybe you just don't have the time to wait on results to gradually appear. Here at Boston Smile Center in Brookline, MA, we understand the pressures and expectations of your daily life. Dental care should accommodate your needs, not the other way around. That's why Dr. Sasson is happy to offer you the option of porcelain veneers, a cosmetic treatment that can cover up stains, cracks, chips, or even stubborn misalignments.  With porcelain veneers, you'll have a four-star smile you can't wait from sharing with the world!
What are porcelain veneers, exactly?
Porcelain veneers are a wafer-thin piece of porcelain that, in most cases, is fitted in the "smile zone" – the teeth people always see when you smile.  They aren't one-size-fits-all, though; your veneers will be crafted so as to enhance your own unique smile. Using his patented Ceramel® technique, Dr. Sasson designs veneers that mimic the translucency, color, and shape of beautiful, natural teeth. With SmileMagic software, you can see how your new smile will look before treatment even begins!
Porcelain veneers are also:
Virtually undetectable by those around you
Resilient to nearly all foods and drinks ingested on a daily basis
Available after only two appointments, including a in-depth consultation that addresses your wishes concerning the look of your new veneers, and a personalized fitting
The beautiful look of white and straight teeth doesn't have to feel out of reach – with Dr. Sasson and his team on your side, you'll have the smile you deserve before you know it with the help of porcelain veneers. Call Boston Smile Center today to schedule your FREE consultation with Dr. Sasson.