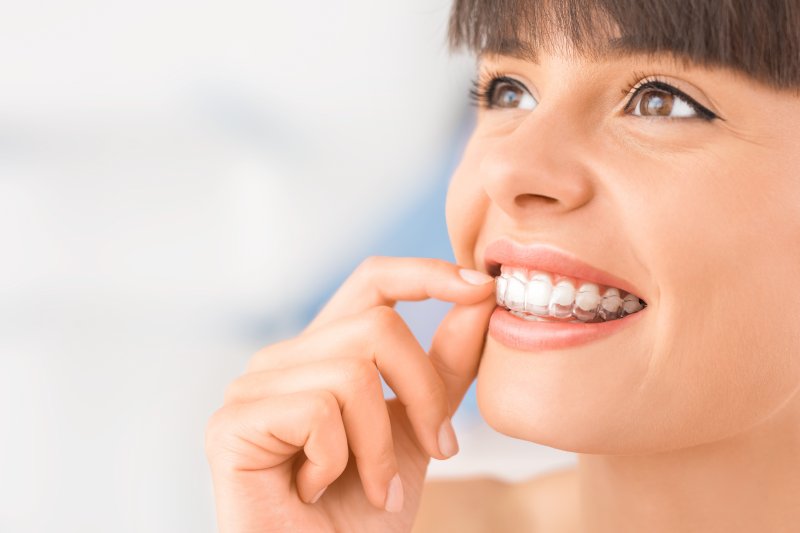 It's easy to see why many adults and teens choose Invisalign over traditional metal braces. The see-through, almost undetectable plastic trays can give you the confidence boost you need to smile and laugh in social situations without worry. But like braces, if you don't take good care of your Invisalign in Brookline, the treatment could take much longer than it needs to, and it might not be as effective in the end. Here are 4 behaviors that you need to avoid during your treatment.
1. Playing with the Trays
Like with any oral appliance, the Invisalign trays will probably feel strange in your mouth at first. Your gums and the insides of your cheeks might be irritated, and you may experience some soreness or tenderness. You might consider taking your trays out to get some relief, but resist the temptation; Invisalign needs to be worn for at least 22 hours a day, or else the adjustment time will be unnecessarily extended. Control any discomfort with pain medication and simply leave the trays alone. You should get used to them in a few days' time.
2. Leaving the Trays in While Eating
Whether it's for a meal or just a quick snack, you should always take your trays out before eating anything. Chewing while wearing the trays could scratch the plastic – or worse, break it altogether! Always keep your case on hand so that you have a safe place to store your trays until you're ready to put them back in.
You should similarly take your trays out when drinking anything besides water; otherwise they might get stained.
3. Forgetting to Clean Your Trays
Good oral hygiene is always essential, and Invisalign treatment doesn't change this fact. Your trays need to be cleaned at least once a day to remove any dirt or bacteria. Wash your hands with soap and water before touching the trays. You can use a soft toothbrush and a mild toothpaste to clean both the inside and the outside. Don't forget to rinse it out afterwards with lukewarm water; do not use hot water that can cause the tray to use its shape. Never use denture cleaners or mouthwash on Invisalign trays, as they can alter the color of the plastic.
4. Rushing to the Next Tray Too Soon
Each tray needs to be worn for about two weeks at a time. You might think you can speed up treatment by moving on to the next one early, but this can actually be very dangerous. The teeth might resorb (meaning their roots break down), making them less stable and more likely to fall out. Let the Invisalign process move at a slow, gentle pace for the best results.
If you have any other concerns about Invisalign in Boston, or if you want more tips for taking care of your trays, talk with your dentist right away. Never take any chances on the path to a more beautiful smile!
About the Author
Dr. Alan Sasson has been practicing dentistry for over 25 years and is a well-respected expert in cosmetic dentistry. As a member of the International Association of Orthodontics, he's able to offer Invisalign and other orthodontic treatments for adults. To schedule an appointment at his practice, the Boston Smile Center, visit his website or call (617) 739-1017.