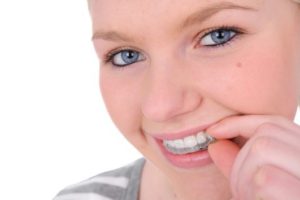 Have you always felt insecure about your crooked or gapped teeth? Although you have always wanted a straight smile, you feel you are too old for traditional braces. If you do not want to deal with the appearance of metal wires and brackets, you are not out of options. In fact, you have 2 discreet solutions to correct the alignment of your teeth. With Invisible STb braces or Invisalign in Brookline, you can restore your confidence by aligning your teeth.

What are Invisible STb Braces?
Invisible STb braces are like traditional orthodontics because they use brackets and wires to move your teeth; however, there is one big difference. Instead of placing them on the front surfaces of your teeth, they are bonded on the backside. As a result, they are less noticeable while remaining equally as effective.
By bonding them behind your teeth, they are hidden from view to resolve your concern about the immature appearance of traditional braces. In addition, you will not have to worry about any irritation to the inside of your lips or cheeks. Due to their positioning, you will have minimal impact on your tongue, so there will not be any issues with your speech.
The fixed appliance provides a high level of control to effectively move your teeth into their correct positions—even for complex cases.
What is Invisalign?
Invisalign in Boston is far different than traditional braces. It does not use brackets and wires to move your teeth. Instead, a series of custom-made clear aligners are created using impressions of your mouth. As you wear the aligners over your teeth, they are gradually moved into their proper positions.
Since the aligners are clear, no one will be able to tell that you are wearing them. They offer a comfortable fit without causing any irritation to the soft tissues in your mouth. They are also removable, so you can still eat and drink what you like.
You must be committed to wearing them for at least 22 hours per day and take the time to clean them properly. Although they are effective for correcting an array of bite and alignment concerns, there are some limitations.
Which is Right for Me?
If you are ready to get the straight smile that you have always wanted, your first step is to schedule a consultation with your dentist. After performing a comprehensive examination, they will determine the treatment option that best meets your needs and your lifestyle.
With the individualized solution you need, you can get the smile of your dreams using a sophisticated approach.
About Dr. Alan Sasson
Dr. Alan Sasson provides complete dental care under one roof. In addition to general dentistry, his advanced training allows him to offer many areas of specialty, including periodontal therapy and orthodontics. He provides the most preferred solutions to help his patients reach their oral health goals with options that accommodate their lifestyle. If you are interested in braces, contact Boston Smile Center today to discover your treatment options.