Invisible Braces System from Boston Smile Center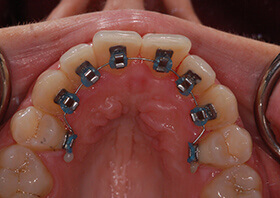 The demand for alternatives to traditional braces has given us more solutions than ever before. STb is a truly invisible system of lingual braces, which means the braces are bonded behind teeth, where they're hidden from view. With STb braces, patients get all the benefits of traditional braces without the immature-looking appearance.
Benefits of STb braces include:
Braces bonded behind teeth and hidden from view
Reduced friction and lighter forces
Minimal impact on tongue position and speech
No more misplaced aligners or interruptions in treatment
High level of control due to the fixed appliance
Ideal for all levels of cases
Dr. Sasson is pleased to offer STb braces as an alternative to traditional and aligner braces. With so many options, you're sure to find a solution that's best for the long-term health and appearance of your smile.