Invisible Braces System – Brookline, MA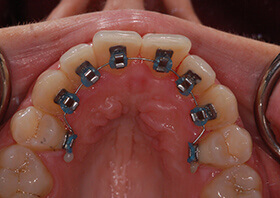 The demand for alternatives to traditional braces has given us more solutions than ever before. Nowadays, with the focus being on appearance and a "selfie" culture, both teenagers and adults alike want that picture-perfect smile without having to resort to bright, shiny metal to achieve it. At Boston Smile Center, Dr. Sasson and his team are proud to offer patients a solution that will not only improve their smile but do so without comprising their daily appearance. With STb invisible braces in Brookline, patients get all the benefits of traditional braces without the immature-looking appearance.
What Are STb Braces?
STb is a truly invisible system of lingual braces, which means the braces are bonded behind teeth, where they're hidden from view. Using metal brackets and wires, lingual braces make it possible to treat various orthodontic problems, including misalignment and bite issues.
The only way anyone would see lingual braces is if they opened their mouth wide, so they're a great solution for someone who is needing treatment but would prefer to keep it discreet and completely hidden, if possible.
How Do They Work?
Similar to traditional braces worn on the front side of a person's teeth, STb braces are worn on the back of the teeth and use brackets and wires to gently move teeth into the desired position. They're bonded, you don't have to worry about a bracket falling off or becoming loose.
It is important for patients who are being treated with invisible braces to see their dentist every 6-8. This will give Dr. Sasson a chance to not only tightened and adjust the braces, as needed, but it will also allow him to evaluate the treatment plan to make sure everything is moving along smoothly.
Who is a Good Candidate for STb Braces?
Lingual braces are a great solution for almost any individual. Whether it is teenagers or adults, this type of orthodontic treatment can straighten smiles without the embarrassing look of metal gleaming from the mouth. Teens can be treated without the fear of being bullied for their braces, and adults can maintain a professional work appearance. It's a win-win situation for every type of patient.
Unlike Invisalign, which requires a level of responsibility and commitment to wearing aligners 20-22 hours a day, STb braces are bonded to the back of the teeth and hidden from view. Not only will you not have to worry about removing your braces to eat or drink, but you'll never need to worry about losing an aligner and possibly delay your treatment.
Other valuable benefits associated with STb braces include:
Reduced friction and lighter forces
Minimal impact on tongue position and speech
High level of control due to the fixed appliance
Ideal for all levels of cases
Dr. Sasson is pleased to offer STb braces as an alternative to traditional and aligner braces. With so many options, you're sure to find a solution that's best for the long-term health and appearance of your smile.