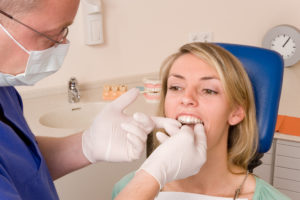 Moving teeth requires the placement of pressure. That pressure shifts the root system of the tooth breaking down supportive alveolar bone tissue. Once the tooth reaches its new position, the bone and gum tissue reattach. No matter how you perform these movements, there will be some discomfort, but unlike other orthodontic solutions, Invisalign may be a much more comfortable solution that limits patient discomfort throughout the course of treatment, especially compared with traditional bracket and wire braces.

Traditional Braces VS Invisalign
Traditional braces use brackets and wires to shift teeth into alignment. Even today's low profile brackets place pressure against the lips. Wires and bands can irritate other soft tissue, and following an orthodontic adjustment, don't ask the braces wearer whether or not their braces hurt – just assume they do. Invisalign trays fit snuggly against teeth and will not cause irritation to the soft tissue. Additionally, there is some dull aching throughout the treatment. Invisalign patients get to skip the painful orthodontic adjustments though they may have a slight peak in pain levels when switching to a new set of aligners.
Tooth Movement
Tooth movement will cause some discomfort no matter what orthodontic treatment you choose. During tooth movement, you can use over the counter pain relievers and ice packs. Some patients find it helpful to apply numbing products to their gums. Avoid placing these numbing agents directly on teeth during Invisalign. Most of these products contain sugars that can lead to tooth decay.
Dental Sensitivity
Sensitivity during Invisalign is normal. However, it can make it difficult for patients to eat or drink. While you don't have any specific restrictions on your diet during Invisalign treatment, you might want to be conscious of sensitivity. Limit your intake of difficult to chew foods directly following the transition to a new set of alignment trays, and wait for hot foods and drinks to cool down a bit before diving in.
Caring for Your Smile
The easiest way to avoid unnecessary dental sensitivity during Invisalign treatment is taking good care of your smile. Brush using an ultra soft toothbrush for two minutes at a time twice a year. You may want to consider using a water flosser or glossy traditional floss to avoid tugging that can be uncomfortable.
Meet the Boston Smile Center Team
The Boston Smile Center team is here to help our Brookline dental patients with all of their oral health and hygiene needs. That includes offering Invisalign orthodontic services to straighten smiles. Call our team to find out more or schedule an Invisalign orthodontic consultation with our team. We'll evaluate your current smile alignment and help you determine whether or not you're a good candidate for orthodontic treatment with Invisalign.