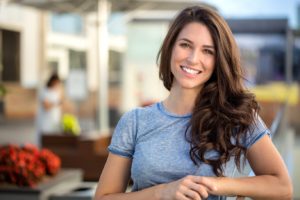 Are ready to improve your oral health and smile with braces? You are making an excellent investment in your smile. There have been several advancements made in orthodontics over the last several years to enhance the effectiveness and comfort of the treatment. At the Boston Smile Center, Dr. Alan Sasson embraces the latest technology and methods to deliver a higher-standard to care. Among one of the best advancements are Insignia braces. The computer-assisted design is a revolutionary new system that allows Dr. Sasson to deliver customized solutions. With the best technology and Dr. Sasson by your side, you will have a flawless results to smile with confidence.

What is Insignia?
Insignia is the only braces system that allows Dr. Sasson to truly customize your treatment to meet your individual needs. Using the computer-assisted design, he can develop the brackets to be patient-specific. This allows for more precision through computer-assisted bracket placement. In addition, the custom-made wires reduce the need for several adjustments during each phase of the treatment. Best of all, you can see what your new smile will look like before you even being wearing your custom braces.
What are the Benefits of Insignia?
As a premier provider of the technology since 2016, Dr. Sasson has undergone additional training to help you achieve your perfect smile with Insignia. You will benefit from precise and predictable results as the treatment plan is highly detailed for accuracy and effectiveness.
During your journey to a straight smile, you benefit from the most advanced technology to create a treatment plan that is specific to your needs. The brackets and wires are 100% customized to fit your teeth. This allows the treatment to be fully unique for faster and more precise results.
With the 3-D software, you will have the peace of mind you need to feel comfortable with your decision to choose Insignia. You will see a representation of the positioning of your teeth and how they will be adjusted to improve your facial symmetry and features—even before your treatment begins.
Overall, you will benefit from a shorter treatment time. In fact, the average duration is 25% less than that of traditional braces. You will achieve your dream smile quickly to reach your end goal faster, often in under 2 years. Although you will wear them for a shorter period of time, you will benefit from uncompromised results. However, to prevent your teeth from moving back into their previous positions, you will need a retainer briefly after the braces come off.
Is Insignia Right for Me?
Insignia is the perfect option for adults of all ages who what to get a straight, healthy smile. To ensure that you are a candidate, you will need to schedule a consultation with Dr. Sasson. He will evaluate your alignment and bite while discussing the results you hope to achieve. He will create a customized treatment plan to align your teeth. Start your journey to a straight smile today. Contact our office to schedule your consultation for Insignia.