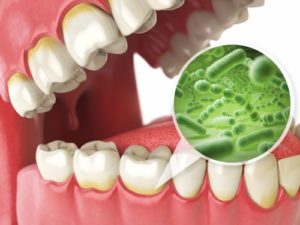 How are your gums doing? The pink tissue that holds your teeth in place can play a pivotal role in your overall health. In fact, unhealthy gums can make diabetes more difficult to control. Periodontal (gum) disease can even contribute to dementia, preterm birth, and cardiovascular disease. Unfortunately, too many people don't give their gums the TLC they deserve. It's important that you recognize the symptoms of gum disease in Boston so you can receive treatment before the problem becomes severe.
Symptoms of Gingivitis
Gum disease has two stages. It begins as gingivitis, which eventually progresses to periodontitis. If you get ahead of your condition before it reaches its advanced stages, treatment should be fairly simple, and you'll be unlikely to suffer any long-term consequences.
The symptoms of gingivitis include:
Puffy or swollen gums
Red gums
Persistent bad breath
Gums that bleed easily when you brush or floss
Receding gums
Tender gums
Reversing gingivitis might be as easy as adjusting your oral health routine and making a few extra trips to your dentist so a professional can monitor the condition. However, you might also have to undergo scaling and root planing, which is basically a very thorough, deep cleaning of your mouth.
Symptoms of Periodontitis
Periodontitis, the next stage of gum disease, comes with all the same symptoms as its predecessor, except these symptoms may be much more pronounced. Additional signs that you might have periodontitis include:
Pus between your teeth and gums
Loose teeth
Painful chewing
New spaces between your teeth
Changes in the way your teeth come together when you bite down
If you have periodontitis, your dentist will discuss your options for periodontal therapy in Boston with you. Your care provider may even be able to use an innovative laser to address your condition that will preserve more of your gums and teeth than traditional methods of treatment.
Sadly, periodontitis may cause you to lose teeth. If this happens to you, your dentist can offer restoration options. You may be a candidate for partial or full dentures. Dental implants offer another possibility.
Know the Risk Factors
Anyone can get gum disease, but some groups are at a greater risk for developing this condition. If any of the following are true of you, it's especially important that you be on the lookout for signs of periodontal trouble:
You have diabetes
You are a senior
You have excess weight
You use tobacco
You take medications that cause dry mouth
Healthy gums are an important part of a healthy mouth and a healthy you. By knowing the symptoms of periodontal disease, you can stop this condition before it wreaks havoc on your smile and your life.
About the Author
Dr. Alan Sasson is your dental expert in the Boston area. Throughout the decades he has been practicing, he has helped numerous patients to achieve healthy teeth and gums. If you have questions or concerns about the state of your gums, contact Dr. Sasson and the rest of the team at Boston Smile Center at 617-739-1017.