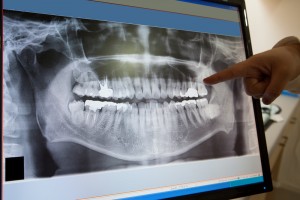 X-ray technology has been utilized for decades in the dental industry, allowing doctors to view the intricate internal structures of the mouth in order to diagnose and treat oral health problems more effectively. Today's more advanced technology, including digital x-rays, gives doctors even more power and precision when it comes to diagnostic and preventive treatments. At Boston Smile Center in Brookline, MA, Dr. Alan Sasson and his team offer digital radiography as part of our extensive menu of preventive, cosmetic, and restorative dentistry services.
Benefits of Digital Radiography
Unlike traditional x-rays that use film and must be developed using harsh chemicals, digital x-rays are captured quickly and displayed in mere minutes on a chairside screen so that you and Dr. Sasson can view them together. Patients who are able to actually see the images captured by the digital radiography machine are more likely to express an interest in their own oral health, asking more questions and learning about the ways they can better take care of their teeth and gums at home. Because everything is digital, there are no developing chemicals to dispose of, so it's better for our environment as well.
Digital radiography is also superior to conventional film x-rays in that it exposes the patient to up to 90 percent less radiation per session. We always take your safety and comfort into consideration first, and we love that our choice to utilize digital x-rays offers this additional benefit.
Only the Best Technology for Our Patients
At Boston Smile Center, we believe that each and every patient that walks into our practice deserves the best treatment, the most compassionate care, and the most cutting-edge dental technology the industry can provide. That's why we are constantly upgrading our facility with the most state-of-the-art equipment and technology, and passing the benefits along to you. Contact our office today to discover the advantages of digital radiography and our other patient-centric services, each customized to suit your individual needs and preferences. We proudly serve families from throughout Brookline, Somerville, Cambridge, Newton, and beyond.