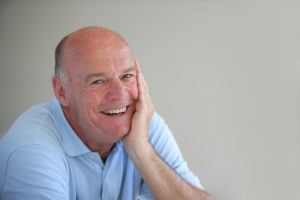 Many times, lost teeth represent major life changes that can make normal oral functions a chore. Thankfully, there are two forms of teeth replacement that can help you regain your ability to eat and speak normally and smile without hesitation. As you read on, you'll learn about the differences between dentures and dental implants in Brookline and when each is the better option.
What is a Dental Implant?
A dental implant is a titanium post that is surgically inserted beneath the gumline and affixed to the jawbone to restore the natural tension that is provided by the teeth roots. This triggers the continued growth of new bone cells that helps to prevent further tooth loss.
Over time, the implant fuses with the jawbone through a process called osseointegration and creates a solid foundation that supports your other teeth and your facial structure as a whole. After you have healed sufficiently, an abutment (connecting piece) is placed that allows for a single crown, implant-supported bridge or dentures to be added to fully restore your smile.
The Requirements for Receiving a Dental Implant
Before the dental implant process begins, the specialist will perform a careful examination to assess your current healthy bone mass and your oral and overall health. Because such a methodical approach is taken, there is an overall success rate of nearly 98% for the dental implant procedure.
Dentures – A Viable Option
The dental implant process is not always the best option for everyone. For example, patients who have suffered advanced bone loss may need to undergo a bone grafting procedure to build-up the jawbone material so the implant can seat properly. For those who would rather not be subjected to multiple surgical procedures, partial or full dentures may be the better route.
Dentures may also be better for patients who are more cost-sensitive because dental insurance will typically cover more of the related fees.
While they won't provide the same level of stability and support as implants, dentures still allow patients to once again eat more of the foods they previously had to give up and regain a smile they can be happy with.
How to Make the Right Decision
The best way to determine whether implants or a denture in Brookline is right for you is to simply visit a local dentist. The professional will carefully examine your oral cavity and make a final recommendation on what will be the best option for restoring your teeth.
Ultimately, the decision will be yours to make, but armed with the right information, you can feel comfortable moving forward and finally regain a normal life.
About the Author
Specializing in restorative and implant dentistry for over 25 years, Dr. Alan Sasson is a graduate of the Goldman School of Graduate Dentistry at Boston University, and he holds a certification in Oral Implantology from Brookdale Hospital in New York. Considered an expert in his field, he has published papers in the prestigious Laryngoscope peer-reviewed publication. Dr. Sasson helps patients restore their teeth with dentures and dental implants at Boston Smile Center, and he can be reached for more information through his website.