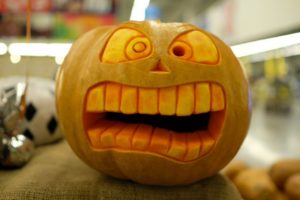 While you may not be able to physically go to a haunted house this year, you can still celebrate the Halloween season with plenty of horror movies at home. After all, this is the time of year when everyone looks forward to enjoying some scary things. Getting frightened by a monster flick may be harmless, but do you know what kind of fear isn't harmless? Dental fear. Many people avoid seeing their dentist due to anxiety, but this can result in oral health problems. Keep reading below to learn how you can conquer your fear of the dentist once and for all.
The Problem with Dental Fear
Fear itself is never the problem. In fact, dental anxiety is understandable, especially if you had a negative experience at the dentist's office when you were younger. However, letting the fear control you to the point that it impacts your well-being can be a serious issue.
This is the case with dental fear. It keeps many people from visiting the dentist until they're in serious pain. By then, their oral health issue has progressed so much that they require invasive, and often expensive, treatment.
These problems can largely be prevented with routine checkups and cleanings. By examining your mouth every six months, your dentist can catch and treat cavities and gum disease before they cause serious damage. But if your fear keeps you from attending these appointments, oral health problems can worsen over time. In most cases, you won't notice them until you're in pain and your smile has suffered irreversible damage.
Fortunately, your dentist has a way of relieving your dental fear.
Sedation Dentistry Can Guarantee a Stress-Free Experience
There are several stimuli in a dentist's office that can trigger anxiety, but there are solutions for all of them. For example, if you're scared of pain, the dentist can administer a local anesthetic to numb your mouth right up. The sounds of the dental office can also be drowned out by noise-cancelling headphones. Lastly, the dentist can give you a mild sedative to alleviate your nerves. Once you've undergone your procedure while in a state of calm, you'll see that there was nothing to be scared of in the first place!
Conquer Your Fear of the Dentist Today!
Dental fear has kept countless people from getting the care they need. Don't let anxiety stop you from keeping your smile healthy. Call your dentist and ask about their sedation options today.
About the Practice
Each one of our three dentists at Boston Smile Center has decades of experience providing gentle care to nervous patients. Before beginning a procedure, we build open communication with our patients to understand their fears and develop a way to overcome them. In addition to amenities like wireless satellite headphones and warm blankets, we also offer a mild sedative to help you relax. To learn more about how we can help you conquer your dental anxiety, contact us at (617) 274-8528.