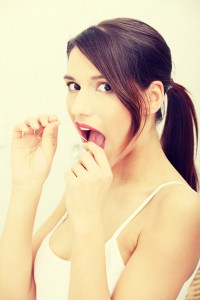 If you've ever been the victim of an embarrassing situation because of bad breath, don't worry – you are most certainly not alone. Millions of Americans suffer from the social awkwardness and personal discomfort associated with chronic bad breath, but the good news is that you don't have to put up with it any longer. At Boston Smile Center in Brookline, MA, Dr. Sasson and his team can work with you to find the halitosis treatment that best fits your unique case with comprehensive general dentistry services.
Fresh Breath Tips that Really Work
In the majority of cases, a noticeably foul odor when you speak or exhale is caused by particles of food that have not been completely removed from the mouth. Acids, starches and bacteria cling to your tongue, gums, the insides of your cheeks and the surfaces of your teeth. Sometimes, popping a breath mint or chewing a piece of gum seems to help, but the effects are typically temporary and not as effective as you'd like. This is because the underlying cause of the odor must be addressed rather than masked with artificial fresheners.
To combat bad breath at its source, Dr. Sasson and his team suggest keeping the following in mind:
Consider your food. Certain foods are more likely to result in a less-than-fresh mouth than others. Fish, meat and dairy products – particularly milk and cheese – are among the most common offenders. If a toothbrush and mouthwash aren't readily available, try rinsing your mouth with water after eating these types of food.
Floss, floss, floss! Many people are perfectly good about brushing regularly, but tend to skimp on the flossing and mouthwash because they're afterthoughts rather than vital steps in their routine. The fact is, though, that flossing and rinsing with an antibacterial mouthwash can help to remove debris and buildup that your toothbrush simply can't reach.
Stay hydrated. A dry mouth is an unhappy environment for the bacteria that reside there. When you drink plenty of fluids, the pH balance within your oral cavity stays sufficiently balanced, resulting in naturally fresher breath.
Of course, the best thing that you can do for your mouth and your breath is to visit Dr. Sasson for regular general dentistry checkups at least twice per year. This ensures that your teeth and gums are both clean and healthy, the two primary components of fresh-smelling breath. Contact our office in Brookline, MA today to schedule your appointment! We also warmly welcome families from throughout the surrounding areas, including Chelsea, Somerville, Boston, Newton, Cambridge, and beyond.