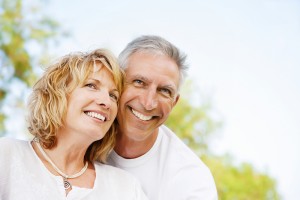 Have you ever seen a smile with one tooth that just doesn't seem to fit? Perhaps your own smile is marred by multiple imperfections caused by decay or injury. At Boston Smile Center in Brookline, MA, Dr. Alan Sasson helps patients just like you rediscover healthy, beautiful smiles and improved function with a variety of restorative dentistry solutions, including all-porcelain crowns.
Why Choose All-Porcelain Crowns?
All-porcelain crowns effectively restore function, strength, and aesthetic appeal to teeth that have been compromised by injury, decay, or other damage. The crown covers the entire visible surface of the tooth, preserving it and protecting it from further harm. An all-porcelain crown is custom-crafted from a single block of durable dental porcelain to match the shape, size, and shade of your natural teeth. Unlike crowns that contain gold, silver, or other metallic alloys, all-porcelain crowns look more like your real teeth so that you can smile with confidence.
All-porcelain crowns serve a variety of purposes. Dr. Sasson may place a crown to cover a tooth that has been treated with root canal therapy or cracked due to injury. Teeth that are misshapen, fractured, or otherwise damaged can be repaired with all-porcelain crowns to promote a more uniform, attractive appearance. Talk to Dr. Sasson about your expectations, desires, and concerns during your restorative consultation and find out how the placement of all-porcelain crowns can help you.
Schedule Your Visit Today
Whether you currently have a crown that you would like to have replaced or you are in need of a completely new restoration, Dr. Sasson is here to help. Contact our office in Brookline, MA to schedule your appointment today and to learn more about our broad selection of smile-perfecting dentistry solutions. Boston Smile Center warmly welcomes patients from throughout the entire Boston area, including Somerville, Chelsea, Newton, Cambridge, and more. We can't wait to show you what a difference our advanced technology, extensive experience, and caring touch can make in your next dental experience.