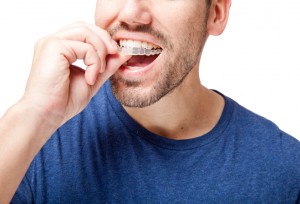 If you've been living with misaligned teeth and bite complications, you may feel like they are just factors you're going to have to live with unless you get traditional metal braces. However, advancements in orthodontic treatments now provide you with various options to get the straighter smile you've always wanted, so it's never too late for orthodontic care. Depending on your own personal needs and level of comfort, Dr. Alan Sasson has the options you need for a straighter smile as a dentist in Boston. Dr. Sasson is the expert for adult orthodontics in Boston. In fact, he offers six different treatment options so you're sure to find the solution that meets your needs and lifestyle.

Adult Orthodontics in Boston
Many adults feel like braces are only an option for children, but this isn't the case. Anyone, despite their age, can receive orthodontic treatments using an array of options. Dr. Sasson is specially trained to offer 6 different types of orthodontic treatments for adults, allowing you to gain the straight, attractive smile you've always wanted.
Clear Damon Braces— Clear Damon Braces are more than just an orthodontic treatment. This type of treatment not only makes your teeth straighter but also balances your facial aesthetics to give you a more youthful look. In as little as 10 weeks, you'll see a dramatic change in the appearance of your smile using a fast, comfortable, and convenient treatment.
STb Invisible Braces—STb Invisible braces involves a lingual braces treatment. Instead of bonding braces to the front of the teeth, the braces and wires are attached to the backside of the teeth for a less noticeable appearance. You'll gain all of the same amazing benefits of traditional metal braces without the appearance of wires and brackets.
Invisalign—Invisalign involves the use of clear plastic aligner trays that are worn over the teeth to gradually move the teeth into alignment. You'll get a straighter smile without any wires or brackets for the most discreet treatment possible.
Insignia Advanced Smile Design—Insignia Advanced Smile Design is one of our newest treatments for straighter teeth. Using computer-assisted bracket placement, you'll enjoy more custom results with fewer adjustments needed throughout the treatment phase.
Accelerated Orthodontics—If you want a straighter smile in as littlle time as possible, Accelerated Orthodontics is for you. This form of treatment can shorten your treatment time by as much as 50 percent by using it in combination with the Invisalign or Damon/Insignia treatments.
Six Month Smiles—For those who want a straighter, more attractive smile in as little time possible, Six Month Smiles is for you. In as little as six months, you'll have an entirely new smile using the best advancements in orthodontic care.
Your Dentist in Boston
If you've been living with a less that perfect smile, now is the time to benefit from adult orthodontics. Dr. Sasson is your dentist in Boston for the perfect orthodontic treatment that meets your needs, lifestyle, and budget. Call (617) 274-8528 to schedule an appointment.