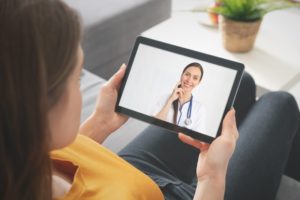 If you have missing teeth, you may have grown used to the appearance of gaps in your smile. However, lost teeth can lead to health issues like extra wear and tear on your grin, risk of infection, and even additional tooth loss. That's why it's important to replace your teeth as soon as possible. During COVID-19, Dr. Sasson is closed to help prevent the spread of the virus, but you can still get started on your complete smile! Keep reading to learn what you can do to begin your journey toward a healthy, strong, and full set of teeth with replacements like dental implants.
Don't Want to Leave Your House? No Problem!
Even though you're in quarantine, you can get a head start on your tooth replacement with virtual consultations from Dr. Sasson at Boston Smile Center! All you need is a well-lit room and a computer or phone with a camera! He can use the technology available, like Zoom conference calling, to examine your mouth from the safety and comfort of your own home.
During a virtual consultation, Dr. Sasson will examine the number of teeth you're missing and the condition of your oral health. He will also discuss any preexisting dental issues you may have because they will need to be treated before getting implants to replace your teeth.
The Process of Getting Dental Implants
Dental implants are tiny titanium posts that are surgically placed in the jawbone to act as artificial tooth roots. Titanium is biocompatible, allowing the implants to become a permanent part of the body. This replacement option is incredibly popular because it looks, feels, and functions just like your natural teeth.
This procedure requires at least one appointment for surgery, followed by a 3 to 4 month waiting period to allow your implants to integrate with your jaw. Then, you'll go back to Dr. Sasson's office to receive your custom-made restorations that are mounted on top of your implants. All that's left to do is to smile with health, beauty, and confidence.
Once This is All Over…
During this uncertain time, one of the best steps you can take is getting your oral health in order. While you may have some more free space in your calendar than normal, what better way to spend your time than to set yourself up for oral health success? Once you complete a virtual consultation, you will already have a personalized treatment plan in place and ready to go when Dr. Sasson opens his doors. Then, you can begin your dental implants treatment as soon as possible.
Contact Boston Smile Center today to set up a virtual consultation and take your first step toward a healthy and full set of teeth.
About the Practice
At Boston Smile Center, we have a team of 3 highly trained dentists, including Dr. Sasson, who specialize in advanced treatments like dental implants to give their patients the best replacement options. They want to help their patients as much as they can during the Coronavirus, which is why they're offering virtual consultations. If you have any questions, our dentists can be reached through their website or by phone at (617) 739-1017.