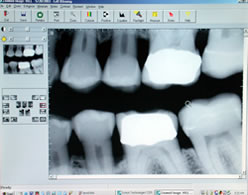 In order to provide patients with the most effective and thorough care available, it's imperative that dentists keep up with the latest technological advances in the field of dentistry. Using modern equipment and procedures provides many valuable benefits that will keep patients healthy and happy – comfort is enhanced, information is more easily relayed and shared, and dentists are able to make much more precise and extensive diagnoses, resulting in much more effective care. Here at Boston Smile Center, Dr. Sasson believes strongly in providing for his patients the best dentistry has to offer; that's why he's equipped his Brookline, MA office with a variety of dental technologies, all guaranteed to make your next dental appointment as comfortable and efficient as possible.
Here are just a few of the technologies our team is happy to offer:
Digital X-rays
Digital X-rays offer countless advantages over the traditional machines doctors used to rely on. Instead of having to wait for film to slowly develop, detailed images of your mouth are available immediately for both you and Dr. Sasson to see. Better yet, they emit up to 90% less radiation, resulting in a much healthier environment for you and your pearly whites!
Intraoral Cameras
With the help of intraoral cameras, Dr. Sasson and his staff can do what lights and mirrors never could – actually show you every last detail of your teeth and gums. With the help of a pen-sized camera, we can transmit video of your mouth to a convenient screen and directly point out affected areas. You don't have to be a helpless bystander any longer when it comes to your dental care – now, you can be a knowledgeable insider!
Laser Technology
Dr. Sasson is only one of a few Boston-area dentists to offer a highly sophisticated new laser for various dental procedures! With the help of this revolutionary dental technology, we can treat early-stage gum disease, prepare cavities for treatment, relieve tooth sensitivity, and so much more!
To learn more about the other dental technologies we offer, look here! Dr. Sasson and his staff are committed to providing all of their patients with precise and personalized dental care, guaranteed to bring a smile to your face! Call our Brookline, MA office today to schedule an appointment.