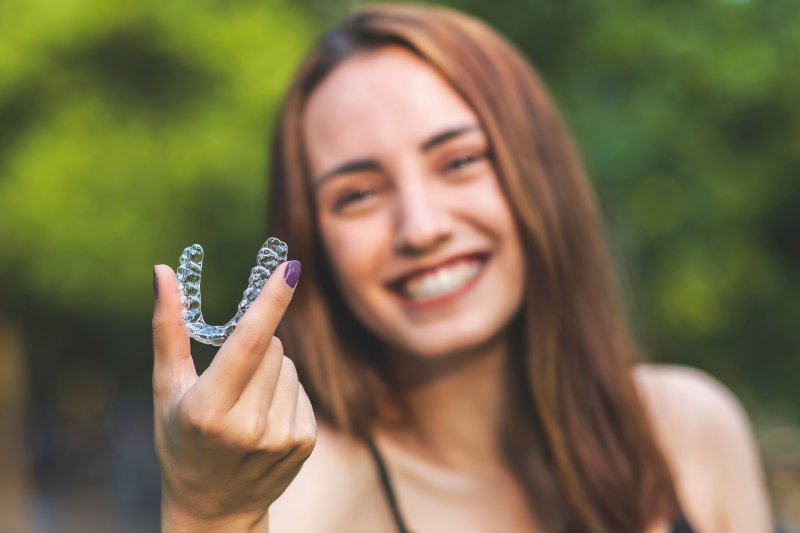 Invisalign aligners are an excellent option for adult patients who want to have their teeth straightened, but don't want to have to deal with wires and brackets. However, because they're removable, they come with a few risks that traditional braces do not; the duty to wear them as much as possible, and to take good care of them when you take them off.
If you're starting Invisalign treatment soon, there are a few things it may be smart to avoid if you want to keep your trays safe. Here are a few examples.
Don't Drink Coffee with Your Aligners In
The fact that Invisalign trays are removable means that you don't have to deal with many of the dietary restrictions that are often associated with braces. However, that's only the case when you take your aligners out; with them in, it's recommended that you don't eat or drink anything besides room-temperature water.
Drinking hot coffee with your trays in can not only discolor them, but the heat can cause the plastic on your trays to warp, meaning that they'll need to be replaced.
Don't Leave Out Your Trays
You'd be surprised at how common it is for people to accidentally throw away their aligners when they've finished a meal. If you leave your trays in a napkin or on a plate, it can be easy to forget about them and toss them out.
For that reason, it's recommended that you keep a carrying case with you for your Invisalign trays and that you store your aligners in it when you aren't wearing them.
Don't Use Colored or Scented Cleaners
One of the people's favorite things about their Invisalign aligners is how discreet they are. However, that's only the case if you take care of them properly; using soaps with dye in them can pass those dyes onto the aligners themselves, discoloring them. If you want your aligners to continue to look good, try just rinsing and brushing them without toothpaste, or use a dental cleaning solution.
While these things are important to keep in mind, your aligners are pretty sturdy. So long as you take decent care of them, they will be able to get you the straight smile you've always wanted.
About Our Practice
At Boston Smile Center & Implant Dentistry, we're proud not to be your typical dental office. We believe that every patient not only deserves the highest quality of care that dentistry has to offer, but that you should feel completely comfortable before, during, and after your visit. We also make use of the latest in dental technology, which allows us to make every visit as efficient and effective as it can be.
If you have any questions about how to care for your Invisalign aligners, we can be reached at our website or by phone at (617) 739-1017.