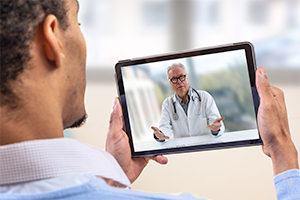 Boston Smile Center is excited to offer teledentisry and virtual consultations for dental services from the comfort of your own home in the Brookline/Boston metropolitan area. The current pandemic scare is limiting all of our freedom to come and go as we please. Through Zoom, Dr. Sasson can discuss your dental needs in a complimentary initial consultation. Possible consultation topics include adult orthodontics, dental implants, and cosmetic dentistry. After your online chat, you can confidently take the next step to schedule a time for a more comprehensive evaluation. Click here to schedule your initial consultation today.
Adult orthodontics
In your initial screening, you can discuss possible options such as Invisalign, Damon braces, Insignia custom braces, or Invisible STb braces that correct the alignment of your teeth, giving you a straighter and prettier smile in addition to many other health benefits. There are different also options that can shorten treatment time, like incorporating Acceledent, for example. You may qualify for an online preview of your new smile through the Invisalign app. It is important to know that a secondary comprehensive evaluation is critical in order to create the best treatment plan for your individual needs.
Dental implants
There is so much to discuss about how dental implants can replace missing teeth and stabilize dentures. Do you still have teeth that have yet to be removed and you want replaced with dental implants? Then, bone grafting is something to discuss sooner rather than later. Is your concern ill-fitting dentures? Implant anchors will stabilize your dentures, improving your ability to chew and your overall comfort and confidence. Dr. Sasson wants to give you possible options that best suit your needs. The life-altering benefits of implants can be discussed virtually in general terms before a comprehensive evaluation can be scheduled.
Cosmetic dentistry
In thirty-five years as a cosmetic dentist, Dr. Sasson has learned that sometimes less is more when crafting beautiful smiles for his patients. Sometimes, it is as simple as aligning a few teeth with Invisalign followed by Glo Sciences teeth whitening to remove stains. Knowing all the options and being selective in approach is key for amazing results that can boost your self-confidence with a radiant smile.
Dr. Alan Sasson can't wait to share his many years of expertise in cosmetic and implant dentistry with you through his new online consultation format. Dr. Sasson is a graduate of the Goldman School of Graduate Dentistry at Boston University, and he holds a certification in Oral Implantology from Brookdale Hospital in New York. He is a past fellow of the International Academy of Dental Facial Esthetics and the Medical Research Foundation of Boston. Dr. Sasson is a member of the International Association of Orthodontics and a certified Invisalign provider in Brookline. To learn more about his practice and the many services they offer, contact him at (617) 274-8528 or visit his website, www.bostonsmilecenter.com.