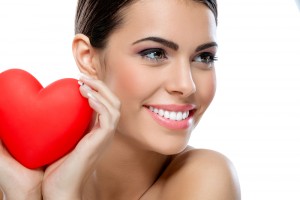 Valentine's Day is just around the corner! Are you still looking for a unique gift for that special someone in your life? Consider giving the gift of a beautiful smile to a loved one – or yourself!
With Professional Strength GLO Teeth Whitening, you or your sweetie won't even need to set foot in Dr. Sasson's high-tech office in Brookline, MA! The no-mess solution and heat-guarded, LED activated mouthpiece combine to make in-home teeth whitening a breeze. Call our office today to purchase a Professional Strength GLO Device with Whitening Gel.
Need a brilliantly white smile in time for a hot date?
You're in luck. Call our office today and schedule an appointment for an in-office GLO Whitening. Dr. Sasson will give you a brighter, whiter smile in just 45 minutes.
Call Boston Smile Center today, and give yourself or your loved one the gift of a dazzling smile.