August 7, 2013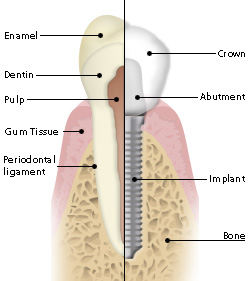 Losing one or more teeth to damage or decay can be a devastating blow, both to your overall health and your self-confidence. Many people with unsightly gaps in their smile find it hard to even leave their home, much less interact with their friends and coworkers without feeling embarrassment or shame. Even worse, losing a pearly white can lead to additional dental problems in the future if left untreated, including an increased risk of periodontal disease, misalignments as the remaining teeth reposition in order to fill the space, and even additional tooth loss. Of course, you may consider bridges or dentures as a potential solution, but these restorations can feel lacking and unnatural in some cases, leaving patients dissatisfied.  What can be done? Thankfully, Dr. Sasson offers the answer at his Brookline, MA office: dental implants. With our team's warm, thorough help, you'll be enjoying a revitalized smile in no time!
How does the dental implants process work?
The dental implants procedure essentially consists of two major steps – the implantation and the restoration. First, after Dr. Sasson has carefully examined your teeth and gums in order to ensure you're a viable candidate for a dental implant, he will place a small titanium post securely within your gap. Then, once an appropriate amount of time has passed for this post to fuse successfully with your soft tissue, you'll come back to the office for your beautiful, new custom-made restoration to be placed atop it, completing your look. Dental implants have countless benefits, including stability, beauty, and even optimal health – it's the only tooth replacement method that actually stabilizes and even regenerates bone tissue in the jaw!
Unlike many dentists who are only able to perform the restoration process, Dr. Sasson has 25 years of experience of an implant dentist, and he'll be more than happy to walk you through every single step of the process himself, allowing you to avoid the messy situation of having to keep appointments with several practices.
Contact Boston Smile Center in Brookline, MA today and schedule your FREE consultation with Dr. Sasson. Our team can't wait to give you a reason to smile!
Comments Off

on Bolster Your Oral Health for the Better with Dental Implants from Dr. Sasson
February 14, 2013
Cavities are one of the most common dental problems patients face on a regular basis, and for over 100 years, dentists have been treating them by providing amalgam fillings. Amalgam fillings, which are created by combining elemental mercury, silver, tin, and copper, are a tried-and-true method for repairing the destruction left by decay; they can withstand a lot of pressure, and tend to last for a long time. But they also have some decidedly negative qualities, the worst concerning their cosmetic nature. The fillings can be painfully obvious to those around you if they're in your front teeth, causing you potential embarrassment. There's also the threat of a health hazard, especially concerning the mercury used.  Never fear – while the ADA's official stance is that the mercury levels in amalgam fillings are safe, Dr. Sasson and his excellent team don't feel comfortable taking any chances with your health. That's why we're happy to offer you mercury-free fillings here at Boston Smile Center in Brookline, MA.
Keep Your Smile Safe, Stable, and Stunning
Instead of the material found in amalgam fillings, our mercury-free fillings are made of safe, durable composite resin and beautiful dental porcelain. Combined, you'll  have a stunning outcome that traditional fillings can't offer – a seamless new look that hides all evidence of dental treatment and keeps your smile whole and happy. For patients who need their cavities treated but that don't want to sacrifice their polished professional image to do so, mercury-free fillings are a perfect choice.
Other benefits of mercury-free fillings include:
They're bonded directly to teeth with adhesive, which strengthens the tooth for a significant amount of time (often 7-10 years!) without needing to be fixed or replaced.
Amalgam fillings often are cracked or bend through biting or chewing over time, allowing bacteria and infection to sneak into the tooth; our mercury-free fillings don't wear down or change shape, keeping your teeth completely protected.
We're committed to practicing conservative dentistry, meaning that during procedures, we want to preserve as much of your natural teeth as possible. Mercury-free fillings allow us to accomplish this by requiring much less reduction of the affected tooth than amalgam fillings.
If you've already had traditional fillings placed and would like to replace them with mercury-free fillings, we're happy to do that for you as well. Don't let cavities get out of control – Dr. Sasson and his team are eager to provide you with expert, personalized care that sends you off with a smile. Feel free to call Boston Smile Center in Brookline, MA if you have any questions, or if you're ready to schedule your FREE consultation today.
Comments Off

on Treat Your Teeth Well with Mercury-Free Fillings from Dr. Sasson