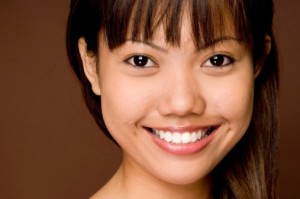 If you'd like to have a smile with straight teeth, but don't want to contend with traditional braces that require so much time, then Boston Smile Center in Brookline, MA, may have the solution for you. Six Month Smiles®, as the name implies, straightens teeth in about six months. Dr. Alan Sasson or Dr. Ray Dempsey would be happy to talk to you about your orthodontic options and whether or not Six Months Smiles is right for you.
The Six Month Smile Advantage
Obviously, having straight teeth in about six months is a clear advantage of Six Month Smiles. But there is another advantage that is equally clear. Actually, this advantage is literally clear. Six Month Smiles uses clear brackets and tooth-colored wires that are practically invisible. And because Six Months Smiles braces are designed to straighten the teeth that are just in your smile zone—smile in the mirror and you'll see what we mean—they are much more comfortable and less irritating than traditional braces.
Six Month Smiles braces use less force than other braces, too, so you experience less discomfort, as well.  These braces use standard orthodontic mechanics, but because the emphasis is on the cosmetic appearance of your teeth rather than the position of your bite, the force required to move teeth is reduced.
Caring for Your Smile after Six Month Smiles
To maintain your straight smile, our dentists will want you to wear a retainer. You can wear a removable retainer or one that is bonded into place behind your teeth. And of course, be sure to continue your at-home hygiene routine of brushing and floss at least twice every day so your new straight smile is healthy and white, too!
Call Our Office Today
If you would like to find out if Six Months Smiles is the right orthodontic option for you, schedule an appointment for a consultation with Boston Smile Center today. We serve patients in Brookline, MA, and the surrounding communities of Chelsea, Newton, Somerville, Boston and Cambridge.