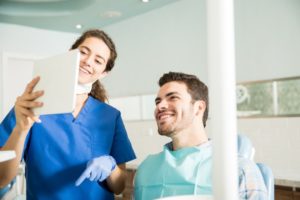 Invisalign in Brookline usually takes several months or longer to achieve its final results. When you first begin your treatment, you might be curious to see your results and look for even the smallest signs of tooth movement as you graduate from one aligner to the next. Wouldn't it put your mind at ease if you knew in advance how Invisalign would improve the look of your smile? Thanks to advanced scanning technology, that is now possible.
Preview Your Results in Just 15 Minutes
Ask your dentist if they have an in-office scanner that can give you a preview of your Invisalign results. If they do, schedule your consultation. During your appointment, your dentist or one of their staff members will use a scanning wand to create an accurate digital representation of your teeth. Then, the scanner's software will allow your dentist to produce a realistic preview of how Invisalign can move your teeth.
The scanning and preview process may take just 15 minutes or so. When you see the potential for how Invisalign could transform your smile, you will be able to make a fully informed decision about whether you want to move forward with the treatment.
Additional Benefits of Invisalign
The ability to get a glimpse of your smile's future is just one advantage of Invisalign. This innovative treatment has many additional perks, including:
Discretion. You may know that you are undergoing orthodontic treatment, but onlookers may have no idea until they notice improvements in your smile. That is thanks to Invisalign's clear aligners that don't call a lot of attention to themselves.
Convenience. The removable nature of the aligners allows you to easily brush and floss your teeth. You will also be free of any dietary restrictions because you'll remove the aligners at mealtimes.
Speed. Invisalign is faster than braces on average. Invisalign Go is even speedier because it focuses on correcting mild to moderate misalignment. It may seem like no time at all before the smile preview you saw at your dentist's office becomes a reality!
Comfort. Because Invisalign does not use any metal brackets or wires, many patients find it to be relatively comfortable.
Support. Your dentist will be there to answer your questions and address any concerns that might arise during your treatment period.
Would you like to find out what Invisalign could do for you? You don't have to wait months to see your smile's potential. A dentist with the right technology can help you to preview its benefits in a matter of minutes.
About the Author
Dr. Alan Sasson is a member of the International Association of Orthodontics and a certified Invisalign provider in Brookline. His office is the only one in our area that has the technology to give patients a preview of their Invisalign results in just 15 minutes or so. If you would like to see how Invisalign could straighten your teeth, or you have other questions bout this remarkable treatment, contact Dr. Sasson's team at 617-739-1017.