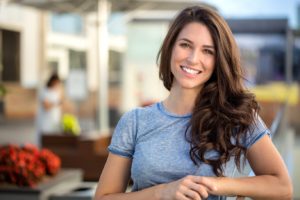 Happy New Year! Have you gotten a good start on your resolutions for 2019? A cosmetic dentist in Boston can help with one very special resolution—smile more! There are a number of cosmetic dentistry treatments available that individually or combined can give you a smile that will be the envy of the town. Read on to learn more about cosmetic services that could take your smile from average to exceptional!
Teeth Whitening
If you're of a certain age, then you may have noticed that your smile isn't as white as it once was. That's probably because of your diet. Color-rich foods and beverages such as tomato sauce, berries, coffee and cola can discolor and stain your teeth.
Fortunately, there is teeth whitening. Whether you opt for an in-office treatment that is quick and effective or an at-home kit that takes a couple of weeks, you'll end up with the same dramatic results.
Porcelain Veneers
But what if your teeth aren't only stained and discolored, but also chipped, broken and cracked? In that case, porcelain veneers may be just what the doctor ordered to hide all your smile's flaws. Even teeth that are misshaped or slightly crooked can be made to look better with porcelain veneers. These strong dental coverings require only two appointments to complete the treatment and give you a brand new smile.
Invisalign
Although porcelain veneers may work for teeth that are only a little crooked, more serious misalignment will likely need orthodontics. But what if you don't want the world to know that you're wearing braces? No problem—Invisalign is the orthodontic system that uses clear aligners to move teeth into position. These aligners fit snugly but comfortably over your teeth and gradually shift teeth. Invisalign in Boston can be used to correct a wide range of smile and bite problems and usually in less time than traditional braces.
Smile Makeover
Finally, if you are faced with several cosmetic dental problems, then there is a smile makeover. This is a treatment plan that combines several cosmetic services to create your ultimate smile. Each service builds on the previous, so at the conclusion of the plan you have teeth that are white, well shaped and straight.
Are you ready to have your best smile ever this year? Then contact a cosmetic dentist to schedule an appointment.
About Dr. Alan Sasson
Dr. Alan Sasson offers a wide range of cosmetic dentistry services to help his patients enjoy the benefits of a beautiful smile.  He also provides general and restorative dentistry for oral health maintenance. If you are interested in improving the appearance of your smile, contact Boston Smile Center today to discover your treatment options.